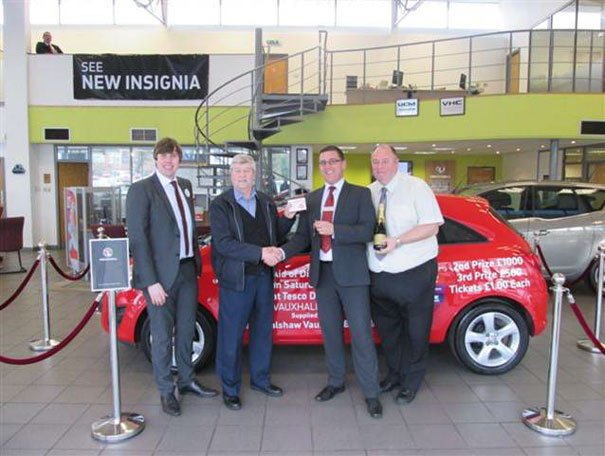 A local man is celebrating after winning a brand new car for the bargain price of one pound.
Retiree David Mogg, 70 from Beverley, is enjoying his new wheels as an act of charity resulted in him picking up a brand new Corsa sting from local Vauxhall retailer, Evans Halshaw Beverley.
The retailer on Swinemoor Lane pledged the limited edition Corsa Sting as part of its support of a Diabetes UK and Tesco prize draw. The prize draw sought to raise money for the charity, which helps support and advise the 3million diabetes sufferers in the UK as well as working towards developing new treatments for the disease.
Winner of the top prize, David Mogg comments, "I was delighted to hear I had won the car. I have diabetes myself so thought I would to do my bit and buy a couple of tickets; I never expected I'd win."
The Corsa Sting is a new addition to the Vauxhall family with a starting price of just £8,995 on the road and many local motorists jumped at the chance to win one for the one pound ticket price.
The car, which was first place of the prize draw, travelled to several Tesco supermarkets in the area including Beverley, Hull, Market Weighton and Hornsea until the winner was picked end of March.
Aron Brown, Dealer Principal at Evans Halshaw, comments: "It was pleasure to be able to help such an important charity with a Corsa from our forecourt. We are always keen to support a good cause and it was great to see so many local people taking part. The Corsa Sting is a fantastic little car and we couldn't wait to see the winner's reaction as they drove away."
David purchased the winning ticket at the Beverley branch of Tesco. The prize draw has helped raise over £24,000 with 20 stores participating.
For more information about Evans Halshaw, including the dealership's range of Vauxhall vehicles, please visit the retailer on Swinemoor Lane, Beverley HU17 0LJ. Alternatively, call 01482 862 801 or go online to www.evanshalshaw.com/vauxhall.