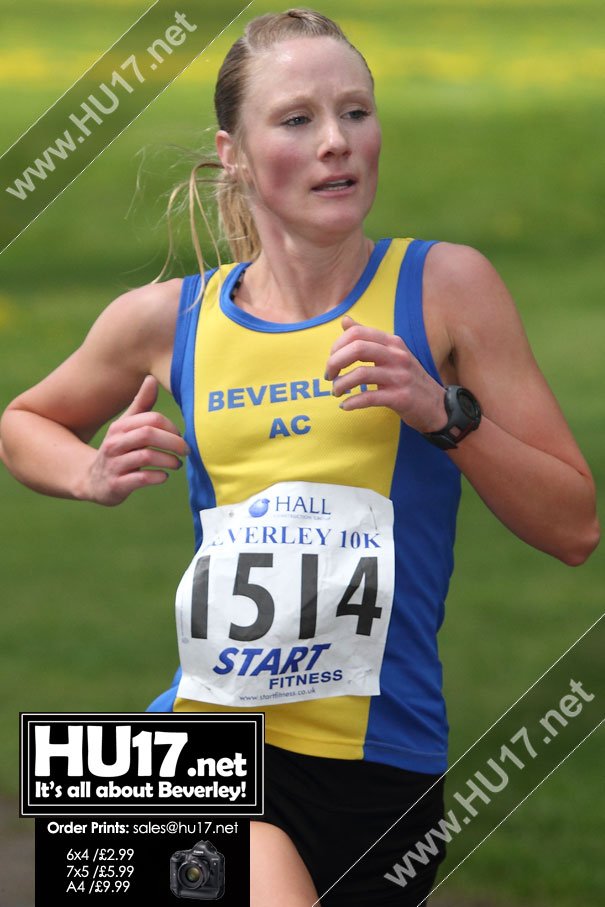 There was a fantastic atmosphere in Beverley last Sunday when a record 1299 runners completed the twenty first Hall Construction Group Beverley 10k.
Heavy rain fell just before the race, but fortunately it held off for the start at 11.15. Although the faster runners managed to complete the course before the rain returned, many participants had to contend with more downpours for the second half of their race, making completing the event even more challenging.
Despite the weather, the centre of Beverley was packed as hundreds lined the finishing straight from Saturday Market to Wednesday Market. Many others cheered on the runners as they returned to town over the Westwood. Beverley Brass band played in Wednesday Market, their rousing music helping spur on weary legs for the last couple of hundred meters down Toll Gavel.
Along with the squad fielded by organisers Beverley Athletic Club all the local running clubs were represented in the race, including teams representing other clubs in Beverley including Run in Beverley and Beverley Fitmums and Friends. Hundreds of unattached runners also took part, many relishing the challenge of completing their first 10km race.
The reputation of the event for a friendly atmosphere and a fantastic finish through the streets of Beverley has grown over the years, and this drew in many runners from further afield who wanted to experience this well organised race along a scenic route.
For the second year in a row, the race was won by Phillip Tedd of Thames Hares and Hounds. Tedd completed the course in 32:45, almost exactly the same time as he recorded last year.
Tedd was in the leading group almost from the start, breaking away during the race to win by a convincing margin of twenty seconds. Second and third places were also the same as last year. Steven Bateson of East Hull Harriers finished in 33:05, again almost the same as previously. In third place was Jim Cooper of Harrow AC, crossing the line in 33:30.
In the women's competition, the winning athlete was also the same as last year's. Helen Cross of Pocklington Runners won by a margin of around 20 seconds from her nearest rival, crossing the line with a time of 36:52 and in an impressive 23rd place overall. Her time was well over a minute faster than she achieved last year. Second and third placed women reversed their position from last year.
Beverley AC's Carla Stansfield recorded a time of 37:14, over three minutes faster than last year. She was followed by Beverley Wilson of Cleethorpes AC, who took 39:51 to complete the course.
Carla said;
"I was really pleased with my run after having a bad race in Beverley last year. Thanks to all the spectators for braving the downpours to support all the runners."
Like last year, Beverley AC won the women's team competition. City of Hull AC had to settle for second place team for the second year in a row. The winning Beverley AC team consisted of Carla Stansfield, Laura Egan and Megan Wilson, and the runners up team was Nicky Whitaker, Becky Fielding-Smith and Hannah Coldwell.
The men's team competition was very close. The eventual winners were City of Hull AC, with Beverley AC taking second place. The winning team included Christopher Adams, James Pearson and Peter Baker, and the Beverley AC runners up were Aubrey Morrell, Lewis Holloway and Harry Powell.
First and second prizes were awarded for all the standard age categories, with Beverley AC runners taking several awards. Beverley AC's Lewis Holloway and Steve Ostler were awarded first and second prizes in the V40 age group, respectively recording 35:38 in 11th place overall and 36:43 in 21st place overall. Both set personal best times in the race.
Aubrey Morrell took first place in the V45 age group with an impressive time of 34:56, and 7th place in the race. Peter Watkinson was second in his V60 age group, recording a time of 43:41. Of Beverley AC's younger runners, athletes moving from the junior to the senior section of the club put in some very strong performances. Harry Powell was first U18 runner in the race, recording a personal best time of 35:42 and coming 12th overall. Connor Spilsbury was next, clocking exactly 38:00.
Other male age categories were won by Jon Morgan (Driffield Striders, V50, 36:58), Steve Rennie (City of Hull AC, V55, 37:22), Gavin Dalton (City of Hull AC, V60, 36:42), Neil Scrutton (Scarborough AC, V65, 41:35) and Derek Marsh (Retford AC, V70, 57:19).
The women's age group prizes were taken by Nicky Whitaker (City of Hull AC, FV35, 41:55), Sara Rookyard (East Hull Harriers, FV40, 42:02), Helen Duffy (FV45, 44:19), Julie Masterman (Goole Viking Striders, FV50, 41:41), Diane Mawer (FV55, 50:29), Stella Dinsdale (Hull White City, FV60, 52:16), Denise Olds (Hull Springhead Harriers, FV65, 57:46). In the FU18 age group, the winner was Nicola Moir, who finished in 44:20.
Beverley AC would like to thank all the organisations and individuals who supported the race and contributed in a number of different ways. Hall Construction sponsor the race and also provided road signage on the day. Other supporters include Kingston Communications who provide prizes in the fun run, Riverside Motors who provided the lead car for the race, Tesco, who provided bottled water for competitors, and Caffe Nero who provided drinking cups on the route.
Boyes provided spot prizes and Strawberry designed the publicity and race information. Thanks are also due to Sports Timing Solutions, Start Fitness, Beverley Leisure Complex, St. John Ambulance, Humberside Police, Beverley Brass Band, Rod Towse of EYRC Traffic Management, and to the hundred or more volunteers who acted as marshals on the day.
The next race organised by Beverley Athletic Club is the Airkool Walkington 10k which takes place at 7.30pm on Friday, July 11. There is also a 1.75 mile family fun run at 6.45pm. Entries for this race have just opened. The second College Canter will be held at Bishop Burton College on Sunday September 28, and will include races of around 3 and 7 miles. Full details are available from the Club website.
While runners in the Beverley 10k were preparing themselves for their race, 237 fun runners lined up on the Beverley Leisure Complex playing field for the start of the B&A Scaffolding Fun Run.
Running through some torrential rain, athletes of all ages completed the race, including 18 members of Beverley AC and representatives of many other local clubs. They were joined by Bertie the Beaver who encouraged them all around the 2km course.
The race was won by Oliver Douglas of Beverley AC in an impressive time of 8:06. The second placed runner, Kyle Richardson (Scarborough AC), came in only eight seconds later at 8:14, and third boys' place was taken by Beverley AC's Edward Johnson in 8:29. Beverley AC juniors were first and second in the girls' race. Becky Briggs was third overall in the race and first girl, completing the course in a great time of 8:22. She was followed in just 17 second later by Morgan Dennis, who recorded 8:39. Beverley AC juniors put up a strong show, with five runners in the top ten places: in addition to those above these were Jacob Chastney and Taylor Arnott.
The runners clearly relished the challenge of completing this mixed terrain race in some tough conditions and enjoyed the atmosphere. Many covered in mud, they were cheered home by enthusiastic spectators, and deserved the specially designed medals and goodie bags they were awarded once they'd crossed the finish line.
Beverley AC finishing times (10k)
Aubrey Morrell 34:56; Lewis Holloway 35:36; Harry Powell 35:42; Lee Phipps 36:11; Steve Ostler 36:42; Luke Davison 37:10; Carla Stansfield 37:12; Darren Rodmell 37:36; Mark Dalton 37:56; Conor Spilsbury 37:55; Ethan Dalton 39:44; Laura Egan 40:38; Matthew Horrocks 40:44; Jordan Arnott 42:38; Peter Watkinson 43:32; Meghan Wilson 43:43; Curtis Arnott 44:24; Emma Greensmith 44:43; Edward Prew 44:59; Kelvin Arnott 46:33; Kate Little 46:41; Lucy Stamford 47:23; Elizabeth Evan 49:32; Neil Sergeant 49:37; Andrew Grainger 49:45; Kate Mitchell 50:04; Kelly Dawson 50:58; Tom Baxter 52:26; Mark Oglesby 53:51; Francesca Brittain 54:03; David Robinson 56:22; Dayna Arnott 58:11; Christine Whitehouse 1:00:00; Lynne Stabler 1:00:00
Beverley AC finishing times (Fun Run)
Oliver Douglas 8:06; Becky Briggs 8:22; Morgan Dennis 8:39; Jacob Chastney 8:49; Taylor Arnott 8:50; Laura Duncan 9:32; Eleanor Boyd 9:41; Guy Harbidge 9:47; Isabelle Horrocks 10:14; Aidan Glover 10:17; Christopher Jeffs 10:33; Erin Glover 10:41; Emily Peacock 11:38; Taylor Arnott 15:04; Jacqui Dickinson 17:24; Mary Harrington 17:40; Oliver Douglas 20:34; Laura Duncan 20:34