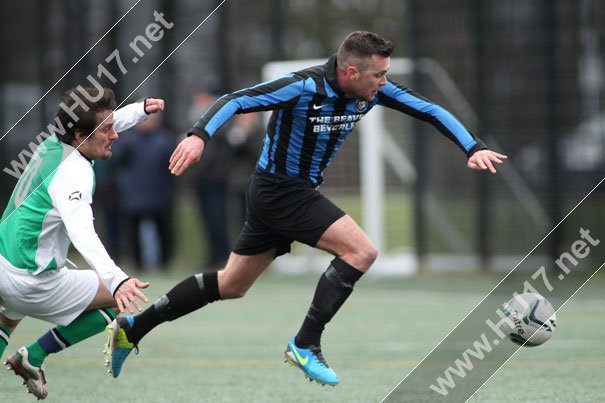 Inter Beaver demolished a poor Humber Colts 5 – 0 in the big weekend derby.
In blustery conditions Inter gave their local rivals a footballing lesson with a festival of goals that saw Michael O'Connell, Luke Thompson, Chris Wilson, Adam Foster and Shaun Gibson all score.
Inter manager Lewis Jenkinson felt the match could have ended with cricket score had his players taken all their chances and his side were simply too good, he said;
"They could not cope with us today, we were better in every department, it could have been 8 or 9."
Some Colts fans were left feeling 'disenfranchised' with what they were seeing and left wondering why their side started with three at the back against a strong Inter team.
Inter's O'Connell when asked about the match said;
"Disappointed really, I expected a lot more fight from the Colts but they just rolled over in the first half and the game was won at half time, which made the second half lack tempo."
The lack of bite up front for the Colts did not go unnoticed by Jenkinson, he added;
"Our keeper, Mike Morris won't have many easier games!"
Final Score: Inter Beaver 5 Humber Colts 0