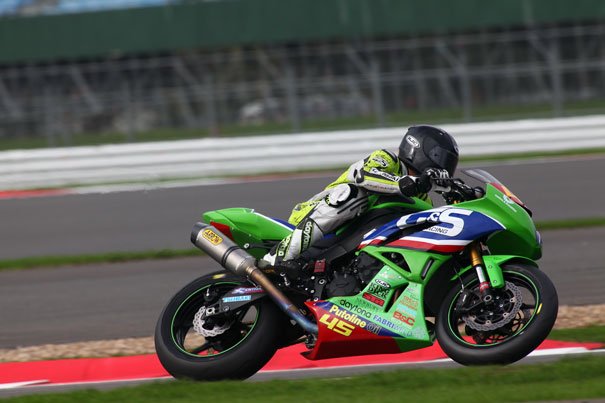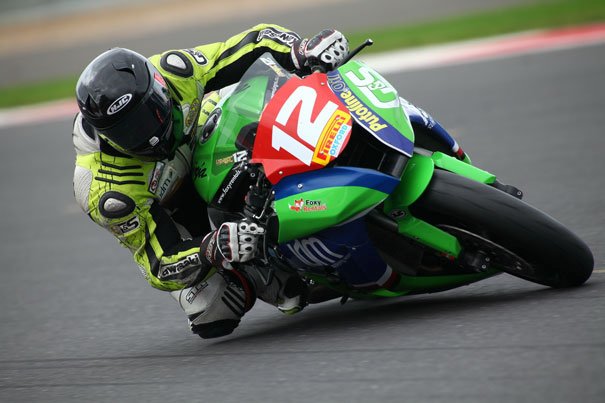 Wyberton based G&S Racing Kawasaki returned from Silverstone with just one championship point for their troubles as they contested the penultimate round of the National Superstock 1000 and 600 classes on Sunday. Tom Fisher completed his 600cc race in 15th position while Dominic Usher was unlucky to crash out of the 1000cc event when running in a strong 11th place.
Nottingham riderTom Fisher was running well throughout free practice and qualifying and began his campaign from a fourth row grid position in 11th place. But on the very first lap a number of riders crashed and the race was red flagged and put back on the agenda to a little later in the day and reduced from 10 to seven laps.As they finally got underway again Tom gained ground in the early laps before being pushed wide onto the astroturf. He dropped back to 13th and then was pushed back again to finish the race in 15th position to bring just a solitary championship point back to the team.
Tom Fisher said;
"There was a lot of bumping and barging going on out there and I got pushed off the track a couple of times. But although I didn't get the result I wanted I am happy with my lap times as I was faster than on previous visits to Silverstone. We move on to the final round at Brands Hatch where I will be seeking a strong end to my final season in this class."
Dominic Usher from Beverley was on fire all weekend, completing his qualifying in a strong ninth place. Starting from a third row grid position in the Superstock 1000 race he was unfortunate to get bumped off the track on the first lap. But he regrouped and finished the lap in 14th place. By lap six he was up to 11th and looking to move into the top 10, but was a little too eager and slide off into the gravel, race over.
Usher said after the race;
"I really feel I am getting somewhere now, my lap times are much better and I am qualifying much further upfield. I was running quite well during the race but think I got a bit over excited and made a mistake. It was a bit hectic out there with a lot of barging going on and I got run off the track a couple of times but put in the second fastest lap of the race so was happy with that. Lets see what I can do at Brands in the final round."
Mark Fisher-team manager said;
"Well what can I say; neither result shows the effort put into this weekend by Tom and Dominic. Both showed they have the pace but some dubious riding by some competitors played its part in our results this weekend. Dominic was quick all weekend and Tom put his fastest lap in on the last lap but of course it was too late by then. But we take the positives from the weekend and move on to Brands for the final round."
The final round is at Brands Hatch on October 20 when both riders will be hoping for a strong end to their campaign.