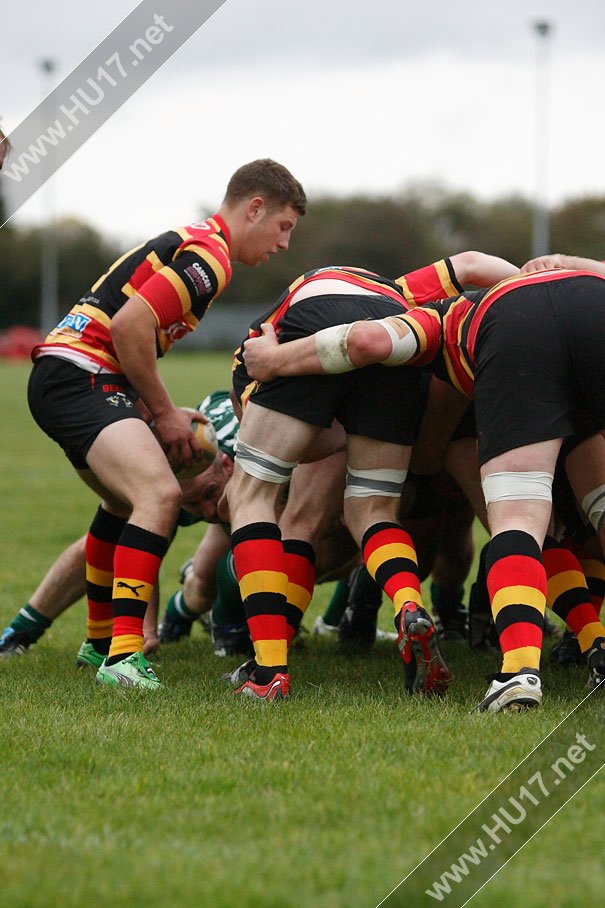 This was rugby at its best. A cracking match in which the lead changed hands five times and the result remained in doubt until the final whistle. It was fast and furious from start to finish with both sides giving it everything. Beverley RUFC with their speedy backs had the edge outside but up front the more powerful home pack in the end was probably the decisive factor in Bradford's victory. All afternoon the lighter Beverley RUFC forwards, well though they played in the loose, were simply out-muscled in the scrums.
Beverley RUFC got off to the perfect start with a beautifully worked try after six minutes. Smart interplay in midfield sent Goran Jelencic bursting away down the middle for a try under the posts which Phil Duboulay converted. Only a superb tackle by Craig Hancock prevented an immediate Bradford response but after thirteen minutes Bradford did get on the scoresheet when their pack drove forward with a catch and drive before releasing the ball for winger Giles Hetherington to touch down.
The conversion was missed and a Duboulay penalty then took Beverley RUFC five points clear to 10-5. The Beverley RUFC backs were showing plenty of panache. They attacked from anywhere and always looking capable of opening up the home defence. Richard Bussey, Junior Tupai, Jelencic and Sam Atiola all made penetrating runs, though the opportunities created were frequently spoilt by a poor final pass.
Bradford's kicking out of hand was altogether better than Beverley RUFC's and astute tactical kicking by the Bees fly half Philip Greaves kept Beverley RUFC pinned in their own territory for long spells. Beverley RUFC's defending against some prolonged pressure was first class but the last ten minutes of the half suddenly brought a burst of scoring. First Bradford drove over from a five metre scrum to level the scores and then they took the lead when winger Hetherington intercepted a Beverley RUFC pass in his own half and sprinted away for a try which Gavin Stead converted.
It looked like being 17-10 at halftime but with almost the last play of the half Duboulay responded with a timely interception of his own to race away from halfway for a try, reducing the interval lead to 17-15. Three minutes into the second half and Beverley RUFC were back in front with a nicely struck Duboulay penalty from the ten metre line. Although struggling to contain the home pack in the scrums the Beverley RUFC forwards were giving a good account of themselves in the loose. The back row of Hancock, Tom Moody and newcomer Brendan Hannam at number eight were particularly prominent. The bulky Chris Bradshaw in the second row was also having a good match and it was a distinct loss when he went off injured to be replaced by Dale Hodgson.
Chris Infield was yellow carded when clumsily going for an interception near the Beverley RUFC line and while he was off Bradford re-took the lead with a converted penalty try. 24-18 down Beverley RUFC's response was immediate. Direct from the re-start they attacked down the left to the home corner and from the ensuing maul the pack forced its way to the line where Mike Bradshaw touched down for a third Beverley RUFC try. Duboulay converted and Beverley RUFC were again ahead – 25-24 with a quarter of an hour left.
Play swung from end to end in a thrilling finish but Beverley RUFC's wayward kicking eventually did for them. Time and again all afternoon they had been kicking the ball down the throats of their opponents who invariably ran back at them. In the end they did it once too often and a Bradford counter-attack took play up to the Beverley RUFC line where Beverley RUFC were promptly penalised for handling in the scrum. With time running out Stead slotted the easy kick to snatch victory for Bradford. It proved to be the last score in what had been a thrilling match played hard throughout and in a fine spirit.
The final result brought no joy for Beverley RUFC but in many ways it was a pity that either side had to lose.
Final Score: Bradford and Bingley 27 Beverley RUFC 25 | Reported by John Nursey