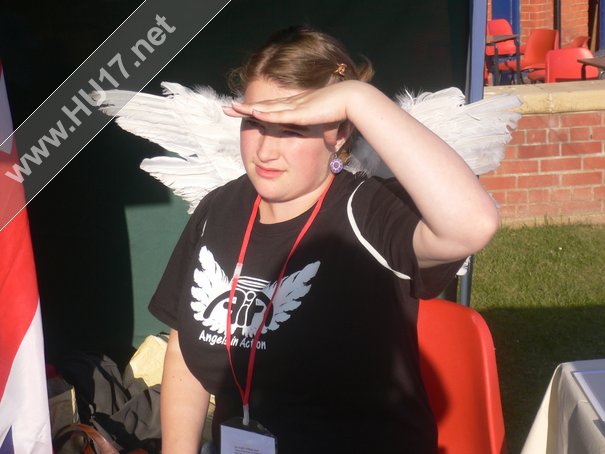 The now ubiquitous Angels in Action team, from CSV East Riding, ventured further afield this weekend when they headed out to Withernsea on Saturday night.
They organised an entire youth gig which took place on the sea front on the magnificent outdoor stage thanks to the support of the organisers of the Withernsea Carnival.
The angels marshalled the event and helped the stage crew throughout the evening. In addition to this, they are also promoted the European Voluntary Service (EVS) to all 18 to 30 year olds through which they can volunteer abroad for up to 12 months for free as CSV is now the Sending Organisation based in the East Riding.
Angels Charlotte Evans, Charlotte Collinson and Emily Wells practised their presentation skills when they seized the opportunity to MC the evening. 'This has been an amazing experience for us and we have enjoyed every minute of it as it's been great for our confidence without a doubt', they all agreed.
They will also be helping out at Goole Beach Day on the 6th August and have already successfully delivered a weekend of volunteering at the Beverley Acoustic Roots Festival, the Driffield Show and the Hornsea Carnival. This has all been made possible thanks to the financial support of the British Council and the Youth in Action Programme whose aim it is to mobilise young people in Europe.  The entire project is being covered by a media crew comprising a number of young people who are interested in film and photography as a career.
Angels in Action is a unique European funded project organised and implemented by young people who keen to get involved in exciting opportunities in the community to benefit all concerned.  The idea originated from a citizenship project they were involved in back in 2010 when they worked with a team of young volunteers in Bologna, Italy.
Sue Dudill, Coach and Youth in Action Promoter for CSV East Riding, explained, 'with over 80 volunteers at this one event I am thrilled that so many young people are getting involved.
I am particularly grateful to Ian Bolton from Freedom Road Creative Arts www.freedomroadcreativearts.com, Dave Watts, freelance musician and children's music workshop coordinator www.myspace.com/harriWattsband and Mark Davidson from Morkwind, http://facebook.com/mork.wind for providing the music and being such a great team to work with'.
For more information about this or EVS or Youth in Action email: sdudill@csv.org.uk
http://www.britishcouncil.org/youthinaction
This summer's going to happen – SO LET'S MAKE IT COUNT!