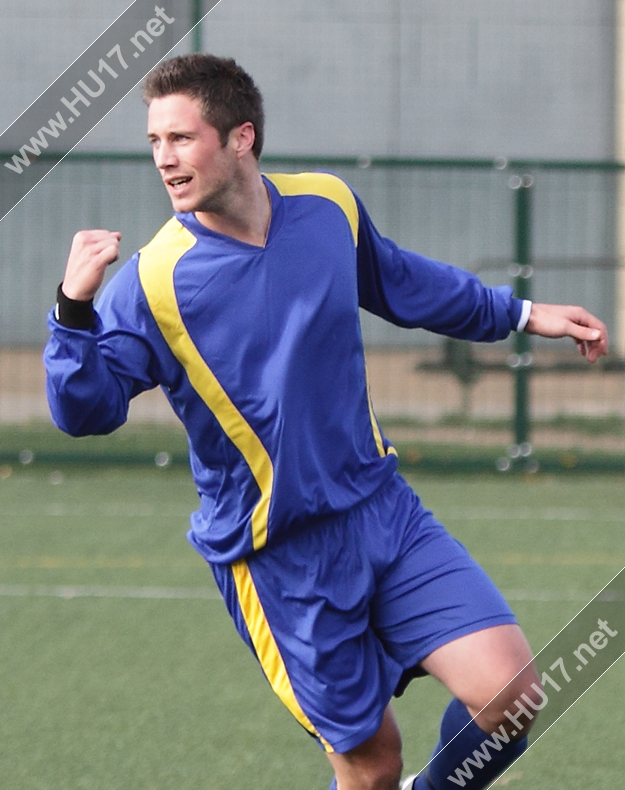 The previous week unstoppable, this week not so good. But once again the 'tanners' managed to pick up maximum points against a very stubborn East Riding Rangers team.
Only a week ago Hodgsons smashed 5 goals past a very weak Rangers side, yet this game was a totally different affair. The home side looked sharp and worked hard from the beginning to the end of the match. In the early stages, Rangers should perhaps have took the lead, only for Danny Piwinski to clear the ball off the line.
Hodgsons were on the back-foot for long periods of the 1st half, however the centre back pairing of Karl Wallis and Ben Daniels defended bravely.
At the other end Steve Grantham almost gave Hodgsons the lead with a left foot drive that skimmed across the damp surface, but unfortunately his effort struck the post and went out for a goal kick.
On several occasions Adam Foster was played through on goal, but the referee adjudged him to be offside, much to Fosters dismay. Linesmen were the order of the day in this match.
At half time, some words of encouragement from the manager were drilled home, and Hodgsons began the 2nd half much brighter than the first.
More chances were being created, and even centre half Karl Wallis came close with left foot strike that just flew over the bar.
It felt like it would be one of those days for the league leaders, the match appeared to have 0-0 written all over it. However, Andrew Stott had other ideas.
On 62 mins Stott picked the ball up just inside the box, and struck a left foot shot low and hard passed the Rangers keeper. The relief in the Hodgsons camp was obvious, and Stott's celebration showed what it meant to him as he jumped into the air like a newly born foal.
15 minutes later skipper Paul Silvester picked up a 2nd yellow card for a firm challenge in the centre of the pitch. Hodgsons had to defend strong for the final quarter of the match and they did just that.
Manager Lee Hastings said afterwards – "It wasn't a vintage performance by any means, but I do allow for one average performance a season…..providing we win of course."
Final score East Riding Rangers 0 Hodgsons FC 1