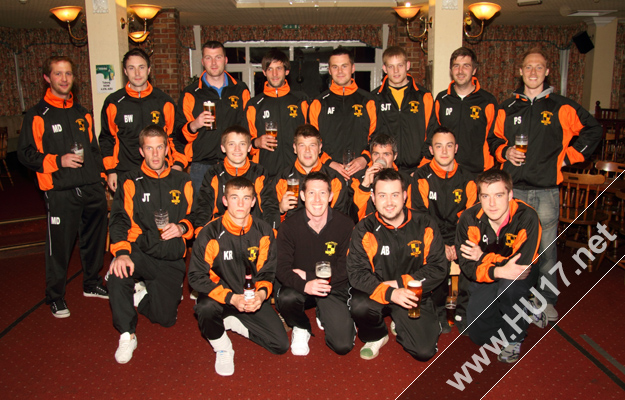 Hodgsons FC final league game of the season, and a win was required to clinch the East Riding County Premier League Title.
The 'tanners' did it in fantastic style. A convincing 7-1 away win against North Cave ensured the Beverley side pipped Bridlington based Artfuldodger by 2 points.
It took only 5 minutes before Hodgsons scored the opening goal. Leading scorer Adam Foster lobbed the keeper in superb fashion. Minutes later Hodgsons were awarded a penalty after Danny Cartwright was taken down inside the box. Captain Paul Silvester stepped up and struck the ball high and wide.
With a slender 1 nil lead, Hodgsons continued to push forward knowing that a 2nd goal would be crucial in this match.
That goal came from Cartwright who tapped in from close range after some great work by Adam Foster.
At the other end, keeper Matt Dexter only had the one save to make, coming from a North Cave free-kick.
The second half once again saw Hodgsons pour forward in numbers. This pressure paid off as Foster scored his 2nd of the match and Hodgsons 3rd to effectively kill the game off.
In the remaining 25 minutes Hodgsons scored a further 5 goals. Paul Silvester made atone for his earlier Penalty miss, tapping home from close range. Scott-Jon Tyler bagged number 5 heading home Chris Heaths corner from close range.
Goals 6 and 7 came courtesy of substitutes Jordan Dexter and Danny Atkinson who both took their goals superbly well.
Man of the match was Chris Heath who worked tirelessly all game. This was the final league game that goalkeeper Matt Dexter and midfielder Chris Heath will be playing for the club. They will both be moving abroad due to work commitments.
Hodgsons chairman Lee Hastings said;
"Both players and in particular Deco (Matt Dexter) will be sadly missed. Deco has been with the club since we formed and has not only been a fantastic player to have worked with, but has also managed the clubs finances superbly. Heathy is one my most consistent players, when he's fit! He has been unlucky with injuries throughout previous seasons.
"As always when players depart, it gives me an opportunity to look at new additions. I have approached Andy Lane, former Beverley United keeper as a possible replacement for Deco, and the club is looking at the possibility of signing Wawne Ferrys leading goal scorer Matty Crane, with personal circumstances still to be discussed."
"It is vital the club continues to add quality to the ranks as we now look to compete in the Humber League Division 1. Every step up is a new challenge, but it's a challenge I will make sure the club is ready for."