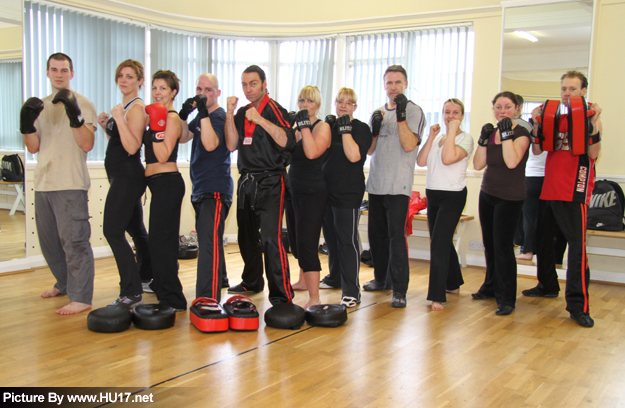 The Kick Boxing class has been running for ten years in Beverley, 6 years at Riverview Gym. It is a cardio 'non contact class' but there is full contact on focus pads and boxing heavy bags.
Peter McNally himself was trained by Sensie John Moreton, a 7th degree black belt and former team event World Champion.
Peter explains;
"I've trained with some of the best there is, the most famous being Chuck Norris, 7 times World Champion and even movie star Jean Claude Van Dame. I also fought for England and have been involved in Martial Arts for more then 34 years, passing on my knowledge to my pupils who attend my Beverley classes."
Peter runs three classes in Beverley for both adults and children; his classes are fun and are made up of mixture of Karate and Kickboxing.
Class Information: Thursday – 7pm till 8pm – Minster Gym (Adults) Saturday – 10.30am – 11.30am – Riverview Gym (Adults) Saturday – 11.30am – 12.30pm – Riverview Gym (Children)
HU17.net Picture Gallery: Click on the thumbnail picture below to enlarge the image to full size
HU17.net Picture Gallery: Click on the thumbnail picture below to enlarge the image to full size
Class Information: Thursday – 7pm till 8pm – Minster Gym (Adults) Saturday – 10.30am – 11.30am – Riverview Gym (Adults) Saturday – 11.30am – 12.30pm – Riverview Gym (Children)