Beverley RUFC were back playing at their home ground Beaver Park after the long lay off, a good crowd turned out to see the match as Beverley hosted Middlesbrough RUFC in the league.
Full Match Report – Beverley 14 Middlesbrough 13
Not a match that will linger long in anybody's memory but in the end a satisfactory day for Beverley who ground out a narrow victory to move up to fifth in the table.  Beverley were far from their best, struggling all afternoon to retain possession and seldom producing any of the fine rugby they have been playing in recent games.
Alex Nightingale made a promising debut on the wing with limited ball, but without the injured Phil Duboulay their makeshift pairing at halfback never quite got it together, and Beverley's other debutant Chris Harding at full back will have better days than this.  None the less it was in the forwards that Beverley particularly looked out of sorts.
They started well enough and it was against the run of play that Middlesbrough took the lead with a penalty from Simon O'Farrell after eight minutes when Beverley were penalised for not releasing the man after the tackle.  Beverley continued to have the better of the play without being able to find any decisive cutting edge.  David Worrall, Richard Bussey, and James McKay all made impressive breaks but nothing came of them through lack of support or careless passing.
Eventually after twenty five minutes they did get the breakthrough.  From loose play in the visitors' 22 the ball went to Craig Hancock who raced through the entire defence and touched down under the posts without a hand being laid on him.  Jamie Gill's conversion put Beverley 7-3 ahead but the lead was shortlived.  In a Beverley attack down the right poor handling midway inside the visitors' half allowed Middlesborough to hoof the ball clear.  With Beverley's full back nowhere in sight a kick and chase to the Beverley line was easily won by winger Callum Campbell who touched down for O'Farrell to add a simple conversion.
Thereafter Beverley's game started to fall apart alarmingly. There were ever-increasing errors and a worrying loss of effectiveness up front even though they still managed to get a good share of possession.  It was the frequency with which they kept giving it away that was the trouble.  A crooked put-in at a Beverley scrum shortly before halftime allowed O'Farrell to stretch the Middlesborough lead with a second penalty so that for all their domination in the half Beverley found themselves turning round 13-7 down.
In the second period when they ought to have been trying to play the game in their opponents half they consistently failed to make any use of the following wind.  They continued to get bogged down in their own territory until at last a penalty got them up to the Middlesborough 22.  From the resulting lineout victory was clinched in a moment of magic from Bussey who cut back to the forwards and threaded his way through the defence for a fine try under the posts.  Gill's conversion put Beverley a point in front and somehow they managed to stay there.
But the last quarter was a nail biting affair for Beverley. The big Middlesborough pack increasingly took command and Beverley struggled to contain their powerful drives, once being trundled back to their own line from thirty metres out.  After a frantic battle on the line Beverley eventually managed to escape but Middlesborough would not let them off the hook.  The referee's inadvertent blowing for full time some five minutes early probably came as much of a relief to Beverley as it was an irritation to Middlesbrough.
The visitors no doubt felt hard done by but Beverley could justifiably point to the fact that all the Middlesborough scoring had been handed to them on a plate by Beverley errors.  Beverley may also feel that justice had been done following the earlier encounter at Acklam Park when they had suffered an agonising defeat in a match they had totally dominated throughout.
Craig Hancock breaks and scores a try to go in front late on in the first half at Beaver Park as Beverley win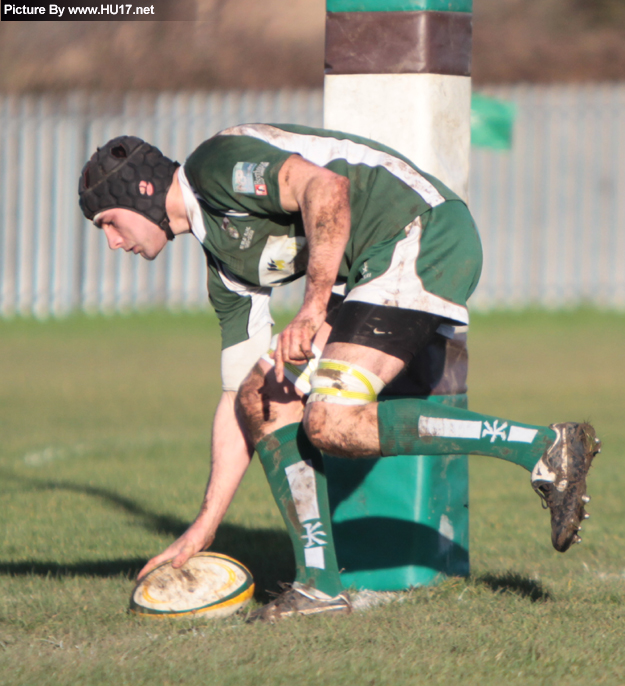 HU17.net Picture Gallery: Click on the thumbnail picture below to enlarge the image to full size
HU17.net Picture Gallery: Click on the thumbnail picture below to enlarge the image to full size