The first match of the night saw a grudge game between ONE10 v the Trogs, with the winners taking bragging rights back to camp. A tight encounter some good (and bad) football, with some top displays by the boys at the back for both sides. Kev Bluff looked inspired in goal, saving everything (in his own unique way) that the Trogs could throw at him. In the end a single goal for ONE10 was enough for the win, and left the Trogs wondering what's gone wrong, as they now face two defeats on the bounce.
Real Soldierdad looked back to their best with a thumping 6-1 victory over new boys Borussia Teeth. Real's pace, passing and finishing was on point all night and their win moves them up to 2nd, replacing the Trogs. It doesn't get any easier for Borussia, who face in form BarceHullona next week.
BarceHullona looked very impressive again, with a convincing 3-0 win over Deportivo. It has to be said that the defensive partnership of Lewis  & Rob Lever is nothing short of amazing. Week after week these two put in mammoth performances without ever asking for, or receiving recognition. All hail them – That will be £5 each boys!!! I should also mention the 2 assists from Willo, or else I'll be getting earache  tonight.  As for Deportivo, all I can say is muscles do not maketh a football team!
Weighton maintained their post Xmas winning streak with a win against NVA.
This week the boys managed to find the net 3 times, erasing the frustrations of last week and leaving the three young supporters on the sidelines with big smiles on their faces. NVA debuted a new keeper last night who had probably the worst keepers shirt I have ever seen, not to mention pink and black stripy socks. Me thinks Will may be back in goal next week!
Waterside continued their march towards the title by blasting 5 past helpless Angel. Danny Moore stroked in another two, with a couple from Sami Tarhuni and a single from Brad Palin in what was a very one sided game.
Waterside now sit 6 pts clear of second place. Poor old Angel continue to try hard, but long balls from the back are doing nothing to help the ever-ready bunny Marcel Veli up front, and 'Where is Belly?', the campaign starts here.
The final game same a tight, hard fought no score draw between Black Sox v AJ's. AJ's had the majority of posession but lacked quality in the final third. When they did get a shot at goal, the man mountain that is Andy Sanders was in no mood to conceed. The turning point nearly came a minute from the end of the first half, when Black Sox were awarded a penalty.
Unfortunately they didn't take advantage of this huge opportunity, missing the kick in slightly embarassing style. Never the less, it was a great point for Black Sox and well deserved.
Results:
One10 1 v 0   Reservoir Trogs
Real Soldierdad   6 v 1   Borussia Teeth
Not Very Athletic   0 v 3   Weighton
Beverley Black Sox   0 v 0   AJ's
BarceHullona   3 v 0   Deportivo Laccatalent
Waterside   5 v 0   Angel
Beverley Soccer Sixes League Table – Match Pictures Click Here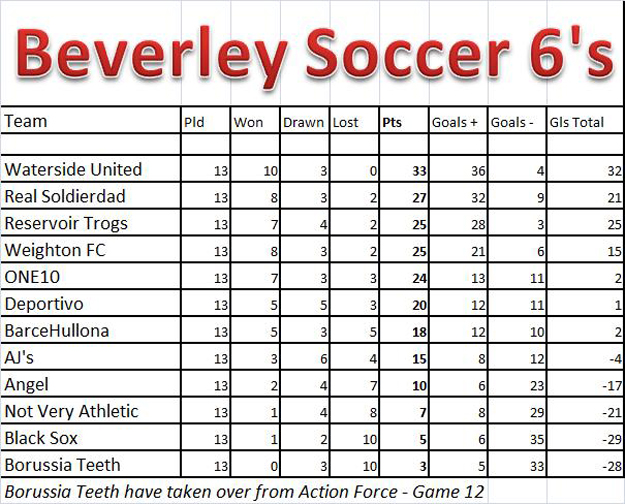 Fixtures for next week are:
Angel v Real Soldierdad   7pm
AJ's v Waterside   7pm
BarceHullona v Borussia Teeth   7pm
Deportivo v Not Very Athletic   7:30pm
Weighton v Black Sox   7:30pm
Trogs and One10 are away so no game.