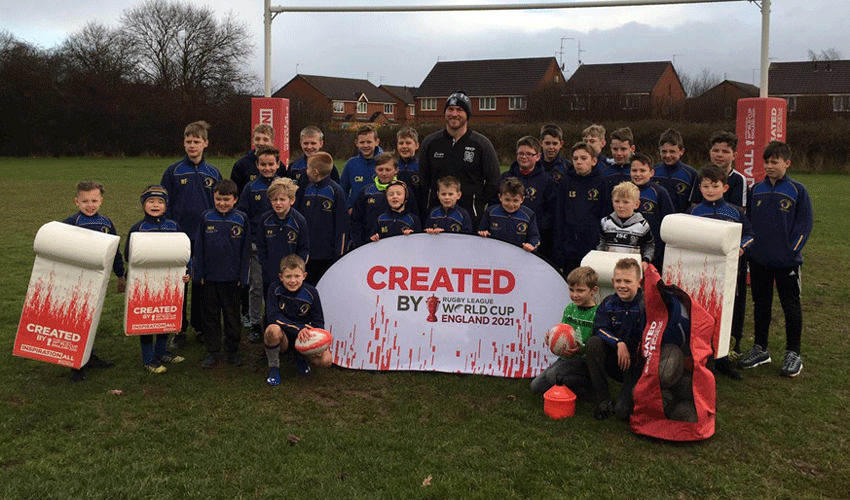 Local club, the Beverley Braves have received equipment from the Rugby Football league.
Equipment for the club was obtained as a result of an application to the RLWC 2021 (Rugby League World Cup) Capital Grants Programme.
The programme is dedicated to improving the environments where Rugby League takes place; giving people more and better opportunities to engage with the game and to get active.
Having just moved into a new clubhouse on Thurlow Avenue the club are incredibly grateful to the RFL for the award of the grant for training equipment and also safety equipment. The club obtained post pads, tackle shields, tackle bags and balls plus much more following the awarding of almost £ 7000.
Having moved into new facilities which have stretched finances at the club the grant has been a fantastic boost for the club and especially all the 175 players that now call the clubhouse home.
The grants are available for all community clubs as the RFL build towards the world cup that is taking place in England in 2021.
Hull FC's forward Scott Taylor who originates from Beverley was on hand to examine the equipment. Scott himself will be hoping to be part of the England squad during the world cup.
The Braves have players from the age of 5 through to a new under 18s squad that will start next season.
Training is on Saturdays at their Thurlow Avenue ground.
If anybody is interested in their son or daughter playing for the Braves please contact Michala on 07900391027 email info@beverleybraves.com
The club is also looking for sponsorship for all their teams in order to provide more equipment and clothing to keep providing a great environment for all the boys and girls who play for the club.
For sponsorship details please email the club at info@beverleybraves.com