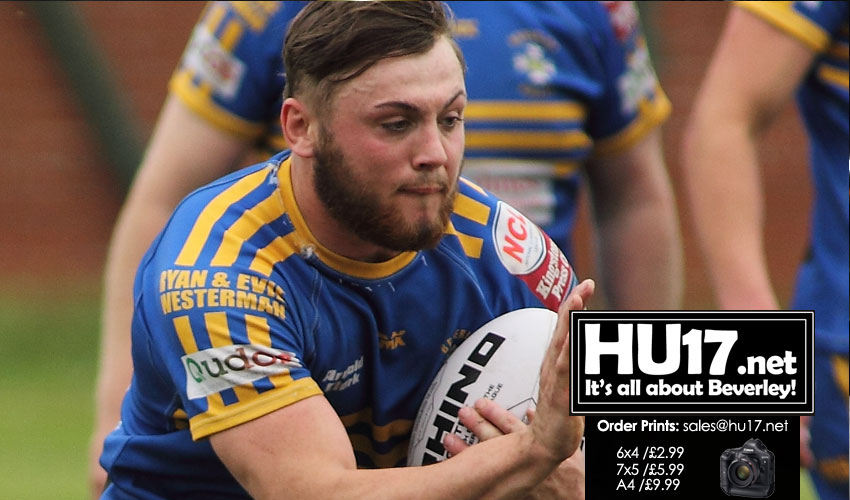 Beverley ARLFC bounced back from last weekend's defeat at Bradford Dudley Hill to keep their top six play-off hopes very much alive.
Next week's opponents Hull Dockers also enjoyed a crushing 60-6 win against East Leeds to set up a tasty derby at the Leisure Centre. This game could now prove to be pivotal in either side's season.
In charge for the day, Tony Spence said that while although a little scrappy at times it was played in a good spirit. He also added that Beverley showed just what they were capable of.
The early moments of the game saw the home side looking to ruthlessly dispatch their visitors from Cumbria.
Inside 5 minutes Alex Starling had crossed for a try and had a hand in the second try alongside Lewis Straw which saw Lewis Poskitt race away to score from his unaccustomed fullback role.
The Cumbrians were plucky opponents, who have suffered player losses to League One sides such as Workington and Whitehaven.
They demonstrated the depth of their club by refusing to lie down. Dale Lambton replied with a try for Askam after 17 minutes converted by Brad Jackson.
Forward Passing Caught By Match Officials In Beverley's Win
Beverley had numerous dangerous attacks in the remainder of the half but on two occasions were pulled back for forward passes. These perhaps may have been missed on another day.
Towards the end of the half, Askam showed some enterprising play as they kicked downfield and a good chase saw them regain possession.
Ben Naylor was then sin-binned for a professional foul as he laid on too long at the play the ball after 37 minutes. The extra set was well defended.
Beverley made light of their numerical disadvantage. Bobby Downs, impressive on his return jinked away and then got a pass away to send Tom Moor over. Straw converted for a 16-6 interval lead.
The early moments of the second half saw the Cumbrians enjoy some territorial advantage. A number of sets close to the Beverley line were well defended and had to be as the home side twice coughed up possession early in the tackle count, as they attempted to clear their line.
All In All A Good Day For Beverley ARLFC
After 52 minutes, Beverley got a crucial score. Sweet handling to the right, direct from a scrum saw the ball shipped to the right to Lewis Miller. His pace did the rest to escape the chasing cover and score wide out. This time Josh Poskitt converted from the touchline.
After 57 minutes an a game played otherwise in a good spirit boiled over as a scuffle ensued. Bobby Howdle, who was the man of the match, and Grady Slater from Askam were sin-binned. This had the desired effect of cooling things down.
After 60 minutes, some more sweet handling, this time to the left saw Sam Brown dive over in the corner. Straw converted.
Following the occasional foray, both teams went close to adding to their tally. Jordan Precious almost turned back the clock, with a show and go. This saw him streak away only for his pass to the supporting Lewis Poskitt to go to ground.
All in all, it was a satisfying afternoon as a large crowd basked in the sun. They day also saw the Academy side win a curtain raiser, earlier against Goole Vikings 'A'.