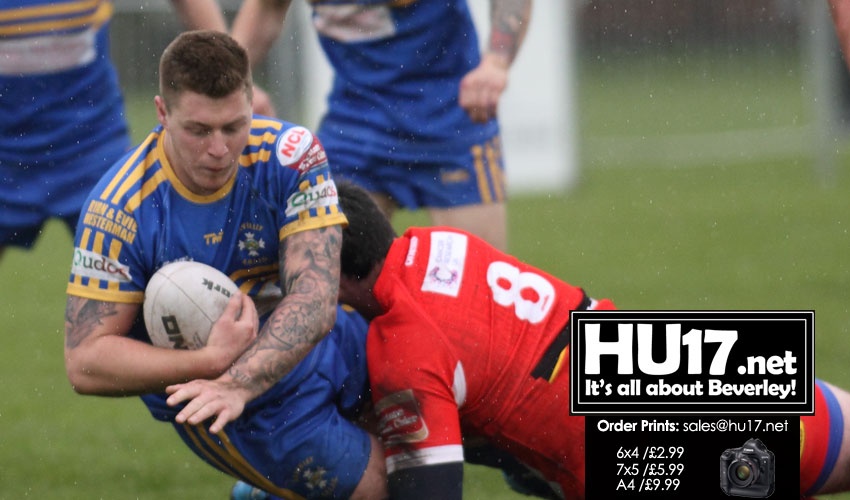 Beverley ARLFC chalked up a second consecutive victory as they beatEast Leeds at the Beverley Leisure Centre.
This was a well-disciplined display on an afternoon of heavy showers and heated tempers as the visitors lost their cool.
Manager Scott Taylor we again pleased with the display of his side. After the game he said;
"The conditions were difficult. We did not rise to some of the bait offered by the opposition so it is a good day at the office. Now let's make it three from three next week when we head to Cumbria."
Beverley frustrated a physically bigger opposition which led to East Leeds having two players dismissed midway through the second period.
The dismissals came within 3 minutes of each-other for showing dissent. The sun shone in the first half and Beverley laid the platform for victory while the conditions were conducive.
Beverley converted early pressure into points when a crisp pass from Bobby Howdle sent Joe Morley crashing over from close range beside the posts. Josh Poskitt converted.
The lead was short-lived as a grubber towards the corner saw Shane Plunkett touch down for visitors improved by Nathan Conroy to level.
A towering bomb was not dealt with by East Leeds and Alex Calvert pounced to score. This was also converted by Josh Poskitt. He soon after added a penalty goal for a 14-6 lead.
Beverley ARLFC See Off East Leeds To Secure Back To Back Home Wins
As East Leeds attempted to reply with a dangerous attack. This was well read by Lewis Straw who intercepted inside his own 20 to sprint away and score. He also added the conversion.
Some sublime skill 4 minutes before the break saw Lewis Poskitt breakaway to send Josh Poskitt over to convert himself. The game was Beverley's to lose at 26-6 at half-time.
The early moments of the second half saw the visitors attempt to hit back and Jason Priestley crossed converted by Conroy. This served to fire up the home side. A well-weighted kick to the corner saw Billy Riby touch down for Straw to convert on this occasion for a 32-12 lead.
Rain fell heavily in the second half making things a little scrappy and the visitors conceded a string of penalties.
A late challenge on Alex Starling saw him take no further part in the proceedings although this was more precautionary than anything serious.
In the 70th minute, any lingering doubts were ended when Lewis Poskitt took advantage of some broken play to kick ahead and touch down.
Lewis Straw kicked Beverley's seventh goal of the afternoon for a 38-12 verdict.
Man of the match for Beverley was Bobby Howdle. He showed menacing elusive runs. Half-backs Lewis Poskitt and Lewis Straw looked much like their old selves in the creativity department.
Beverley ARLFC 38 Est Leeds 12