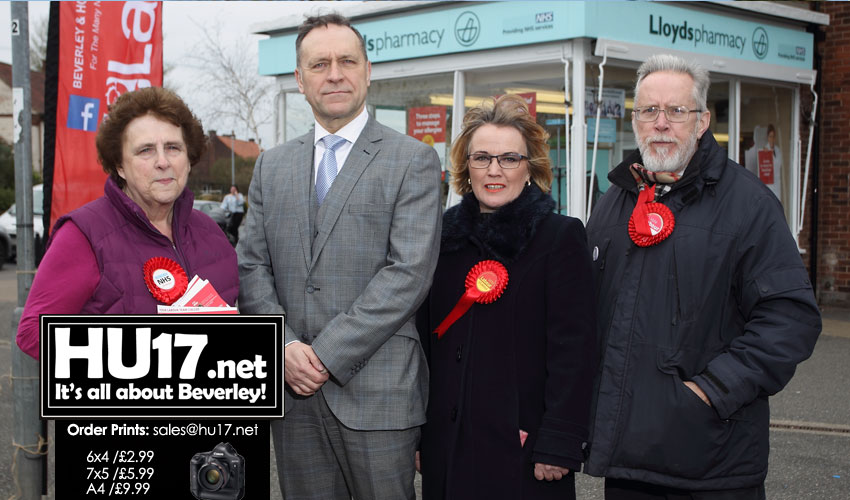 Following the recent surge in Labour Party membership, East Riding Labour Party will be fielding 61 candidates. The party will have candidates across all 26 wards in the elections to County Hall on May 2nd.
Families will be at the heart of the campaign when East Riding Labour launches its assault on Tory-held seats at County Hall.
Against a background of soaring council taxes and slashed services, Labour is hoping to unseat long-standing Tory councillors. They plan on doing this with a range of family and environment-friendly policies.
George McManus is himself standing in Minster & Woodmansey, he said;
"People are sick and tired of potholes, rising crime, reductions in school budgets and cut after cut in essential services including youth provision and care for the elderly."
Labour Party Blame Tories For Soaring Taxes And Cuts To Services
Mr McManus is not holding back the punches. Nor is he being fooled by the Conservatives who he says are also picking the pockets of hard-working people.
Police and Crime Commissioner Keith Hunter has already been out the Labour Party. He also feels the cuts made by the Conservatives are damaging communities.
Talking about the cuts being made in the East Riding he said;
"All against a background of soaring council. These are costing the average family an extra £300 a year."
"Westminster Tories cut budgets and their East Riding colleagues deliver the cuts, whilst picking the pockets of hardworking families through soaring Council Tax."
"It's not good enough and it's time for a change. This is why we urge everyone, from every corner of the East Riding, to Vote Labour on 2 May."
Furthermore, Mr McManus is confident his party can make a real difference and is not ruling out an upset being caused at the local elections.
He also says that the feedback they are getting on the doorstep is painting a very optimistic picture.
Labour is confident that people will come out to support them. They also feel if the numbers predicted are right they stand to win seats in May.