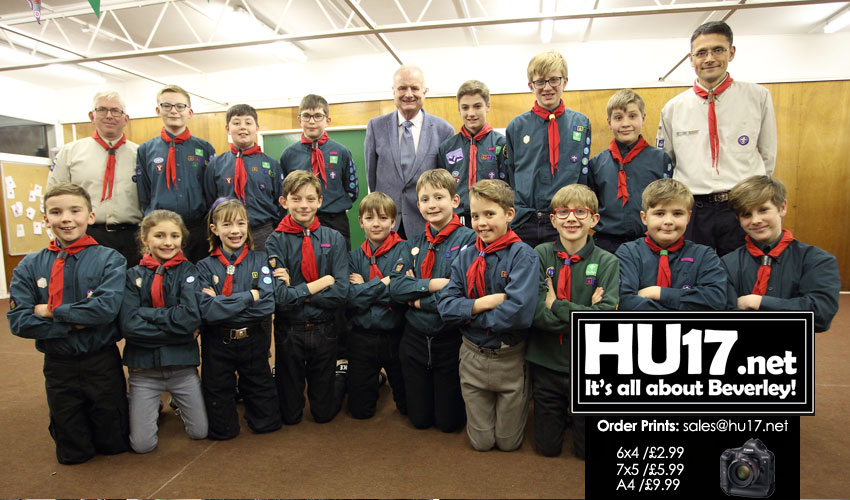 Molescroft Scouts have been offered assurances that Cllr Denis Healy will do all he can to make ERYC see sense. Cllr Healy was speaking following a visit to the Molescorft Scouts who are currently based at Longcroft School.
Both the Scouts and air cadets face an uncertain future as the council look to offload land for housing. Both groups both been given notice and told to vacate the site by the local authority.
The LibDem Councillor for St Mary's Ward in Beverley is angry about how the council have approached the whole affair. In particular, he is concerned about 'private meetings' that have occurred which he was excluded from.
Cllr Healy said;
"Recently, a meeting took place between Beverley's Conservative councillors and senior council officers. They discussed the disposal of the Longcoft Lower School site to developers."
"It was a meeting that I was not invited to attend even though I am the ward councillor in St Mary's where Longcroft is situated."
Cllr Healy says he feels he was not asked to attend the meeting as he is not part of the ruling Conservative group and also that his opinions would not be welcomed.
He also says that it was at this meeting that this select group of public officials made financial commitments to the school totalling £1.5M.
He added;
"While officers want to do their best to help the scouts and cadets the ruling Conservative group think they can do what they like."
"This is an example of how they do things in the East Riding. Behind closed doors, stifling out consultation and ignoring the public who elected them."
Cllr Healy Wants ERYC To Make Cash Offer To Molescroft Scouts & Air Cadets
"The scouts and cadets have occupied their HQ buildings since 1975. These are buildings that were established with voluntary contributions from the public at the time. Both groups have enriched the lives of generations of young Molescroft people ever since."
"I have written to the Chief Executive and Director of Planning & Regeneration to request a meeting with them. I am asking the council to make a cash offer to the scouts and cadets to support them in financing and building a replacement HQ building following their eviction."
"If the Conservatives can instruct officers to find the money for Longcroft School from the sale of the land, why can't a similar gesture be made to the groups that are getting displaced?"
A petition launched by the 1st Molescroft Scouts has already been signed by nearly 5,000 people. There is outrage in the community about how the treatment they have received from the council.
Molescroft Scouts have welcome the money the that the school will get saying it will benefit young people. However, they are furious at the situation they find themselves in as result of the local authority.