A nice sight in Beverley was seeing tradesmen working on the wall of St Mary's Church. In December the St Mary's Church wall was badly damaged after a car hit it.
What was once a damaged is now ten months looking much better. Craftsmen are rebuilding it, restoring St Mary's Church to how it was before the accident.
This incident was the first of two that happened within days of each other in Beverley. Just days after this accident another car left the road and hit a wall.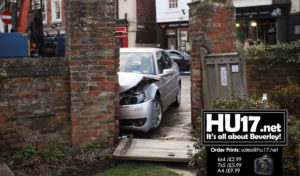 Coupled with the joy riders who smashed into Beverley Minster, just weeks before, cars going into walls seem to be all the rage.
It is still not clear why the car left the road that morning at Hengate and hit the church wall. It was during a very cold period and ice is a possible cause.
Cllr David Elvidge saw the damage first hand. He concluded that he was relieved that no one was hurt and that walls can be repaired.
St Mary's Church overjoyed their wall is being fixed
Rev. Becky Lumley said she was overjoyed that the St Mary's are getting their wall back. She said;
"We are all overjoyed with that the wall is finally being repaired. Fortunately, the church did not have to pay for the work to be carried out. The cost was covered by insurance, thankfully."
"The work is being undertaken by highly skilled craftsman. They are using the original stone and also lime mortar to complete the project."
Established in the first half of the 12th century as a daughter church of Beverley Minster, St Mary's was formed to serve Beverley's trading community.
St Mary's Church is frequently mistaken to be Beverley Minster by visitors to the town. St Mary's Church is also home to the 'Alice Sand Sculpture which forms part of an ongoing project.