Temporary pavement signs are to be installed at opposite ends of the centre of Beverley as a trial to encourage visitors to make the most of their time in the historic market town.
Known as roundels, the circular markers will display directions and distance information and will be located between North Bar Within and Saturday Market, and between Wednesday Market and the Flemingate centre, via Beverley Train Station.
Championed by Graham Tait, Flemingate Centre Manager, this initiative follows the installation of a totem sign at Flemingate displaying walking times to key attractions in the town.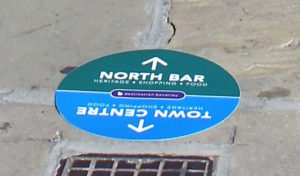 Graham said;
"These pavements signs will encourage visitors to Beverley to appreciate the town centre can be explored easily on foot and illustrate how connected our town really is."
"They address perceptions about the distances involved. For example, I've spoken to businesses in Beverley who tell me that people don't visit North Bar because they think it's too far to walk from Saturday Market."
Not everyone is 'keen' on more signage being added to the streets of Beverley.
In December Cllr David Elvidge, when asked about the project questioned the choice of the route and saying 'While I understand this is about connectivity, it all ends up pointing one way.'
Around 45 roundels will be used in the trial to mark the routes with installation planned for August depending on the weather.
Graham added;
"If the trial is successful and residents of Beverley take to the scheme, additional roundels could be used to increase the visibility of the wider town centre, pinpoint the most direct routes and also highlight interesting side streets and places to visit along the way."
"The markers will improve connectivity to both ends of the town centre and help visitors navigate through the town and see all that Beverley has to offer. There is also potential for further pavement signage to highlight other walking routes through Beverley."