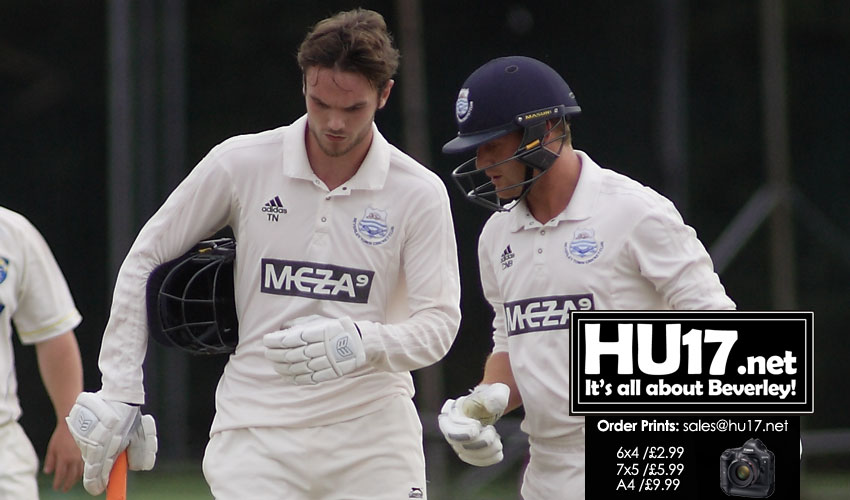 Once again Beverley Town Cricket Club had three wins last weekend with the 1st, 2nd and 4th XIs all recording impressive wins, losing a total of only ten wickets in the process.
Beverley record wins against Malton & Old Malton, Sewerby and Gilberdyke on what proved to be a very successful day for the club.
York Senior League Premier Division
Beverley 1st XI 224 for 4 beat Malton & Old Malton 1st XI 155 all out by 69 runs
Ben Hatfield and Jamie Roe starred for Beverley in their comprehensive win away at Malton & Old Malton. After winning the toss Beverley chose to bat first and 60 runs were on the board before Harry Gamble was out for 22.
The next three batsmen made modest contributions before opener Ben Hatfield was joined by Greg Whyley and their unbroken partnership of 99 lifted Town from 125 for 4 to 224 for 4 from the allotted 50 overs. Hatfield, a new signing last winter and with four half centuries in his previous five games, made his debut ton for the club remaining unbeaten on 116. Whyley's 51 not from 62 balls out was his first half century of the season.
Matthew Mudd (2-44) and Roe returned to the 1st XI and both took wickets to leave Malton on 56 for 3. From then on it was the Roe show as he claimed six more wickets to bowl out the home side out for 155. Kieran Thompson, weighed in with 1 for 7 from five overs as the last five wickets fell for just ten runs, Roe returning 7 for 53, the fourth best figures in the Premier League this season.
Division 1
Beverley 2nd XI 272 for 4 beat Sewerby 1st XI 158 all out by 114 runs
A second wicket partnership of 129 between Tony Spence and Olly Grantham set Town 2nds up for a big score against Sewerby. They took the total from 26 for 1 to 155 before Spence was out for 56. Grantham went on to make 76 while Rob Fish made a steady 33.
The innings was given impetus at the end with the return to form of Tom Norton, who made an unbeaten 49 and Connor Bowden (25 no) who is becoming used to providing useful runs in the closing overs, this time leaving Town on an impressive 272 for 4.
Bowden removed both openers in his short burst at the beginning of the Sewerby innings and James Emery took a third wicket to leave the visitors 41 for 3. A useful partnership was ended by Ed Chappell, 78 for 4, before Joey Franklin joined the attack to claim three quick wickets, 139 for 7. Brad Graham (2-41) began a second spell and took two wickets before Franklin (4-26) sealed the win as Sewerby were dismissed for 158 in only 35 overs.
Holderness Division 2
Beverley 3rd XI 104 all out lost to Middleton/North Dalton 1st XI 107 for 7 by 3 wickets
The 3rds score of 104 all out in just 31 overs proved not to be enough at Middleton/North Dalton last Saturday. Will Harrison was top scorer with a hard-earned 33 after the top order had all failed. Familiarly brief cameos from the middle order and 15 from Craig Foster at the end of the innings took Town over the hundred mark.
After a decent start the home side began to lose wickets to Foster (3-50), Owen Parnaby (1-26) and Guy Brumfield (3-27) as Town pushed for an unlikely win. However, the winning runs came in the 33rd over as Town were left to rue not making another thirty runs batting first. A second successive loss leave the 3rds in mid-table having won seven and lost six of their 14 games played this season.
Holderness Division 4
Beverley 4th XI 134 for 2 beat Gilberdyke 1st XI 131 all out by 8 wickets
Second placed Gilberdyke were rolled over by Beverley 4ths in quick time. After inserting Gilberdyke Town's opening bowlers Charlie Bough and Simon Lazenby reduced the opponents to 55 for 4, Lazenby with 3 for 26. Lew Richardson came on to take 1 for 22 before Matty Saint ended a useful 43 run partnership with the first of his two wickets. Bough took three quick wickets to finish with 4 for 34 while Saint (2-19) wrapped up the innings on 131 from only 30 overs.
After Davyd Parry hit a brisk 29 before falling at 55 for 2, Jacob Hunter and Stew Scott wasted no time in knocking off the required runs, their contrasting styles clearly evident. Scott was unbeaten on 54 and Hunter 36 as the winning runs were hit from the first ball of the 21st over leaving the teams with an early finish. The 4ths lead at the top of the league is now a healthy 68 points and they welcome hull Strikers to Norwood this coming Saturday.
Reported by Ray Teal