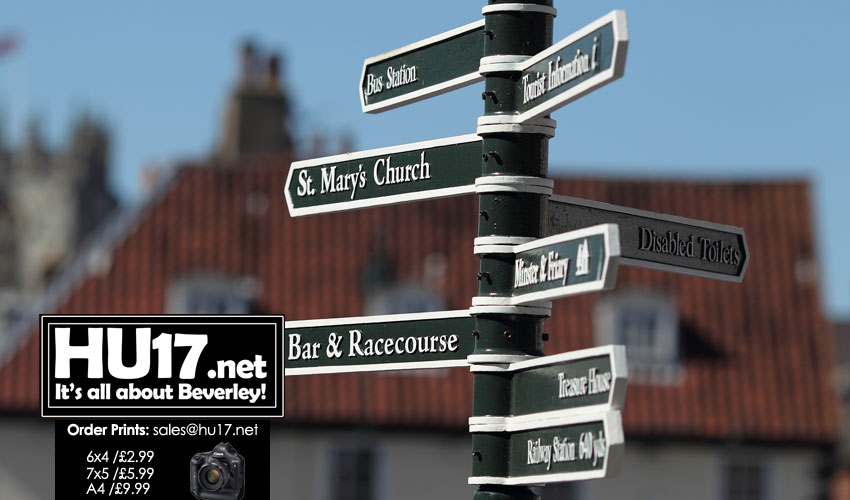 Temporary disks are to be placed on pavements in Beverley that will direct shoppers from the town centre to the out of town retail park Flemingate, and from North Bar Within to Saturday Market.
The incentive which will be will run for two weeks will see disks, measuring 20cm in size, directing pedestrians in an attempt to help the flow people and visitors in the town.
Cllr David Elvidge, who is sits on the Beverley Renaissance Partnership, where the idea was tabled said it was to help improve 'connectivity' in the town.
While the disks will not run through the town centre, they will guide people from North Bar to Saturday Market and from Wednesday Market along Railway Street to Flemingate.
Speaking to HU17.net, Cllr Elvidge said;
"Most of the people involved with the partnership agreed it would be a positive thing to do. However some concerns were raised over the choice of the route."
"Guiding people down Railway Street instead of Eastgate misses the heritage, like Beverley Minster and also what is a more commercial route which has shops along it."
"I am not sure why Beverley needs them. The town centre is buoyant and we are now at point where we have to decide if it needs to get bigger."
"While I understand this is about connectivity, it all ends up pointing one way."
Graham Tait, from the Wykeland Group Ltd said;
"This new scheme is aimed at assisting first-time visitors to navigate their way to North Bar Within and Flemingate, the two bookends of the town centre, with simple non-slip pavement disks pointing the way."
"The trial reflects the fact that Beverley now has more to offer than ever before in terms of shopping and leisure and is supported by East Riding of Yorkshire Council, Beverley Renaissance Partnership, Beverley Civic Society and Destination Beverley."
"It's a positive move to help people make the most of their visit to our wonderful market town."
Flemingate, which has been open for just over two years recently had an application to install neon green banners on lampposts in the town rejected.
This latest project will be funded by the Wykeland Group, owners of the retail park.
Disks which will be a combination of Neon Green, Racing Green, Blue will be placed every 10 meters along the designated route.
Supporters of the incentive include the Beverley & District Chamber of Trade, while other groups in the town have expressed their concerns saying it will just add more clutter to our streets and create an eyesore on the towns pavements.
HU17.net understands the project has been proposed as the current signage means people are finding it 'difficult' to get from the retail park to the town centre.