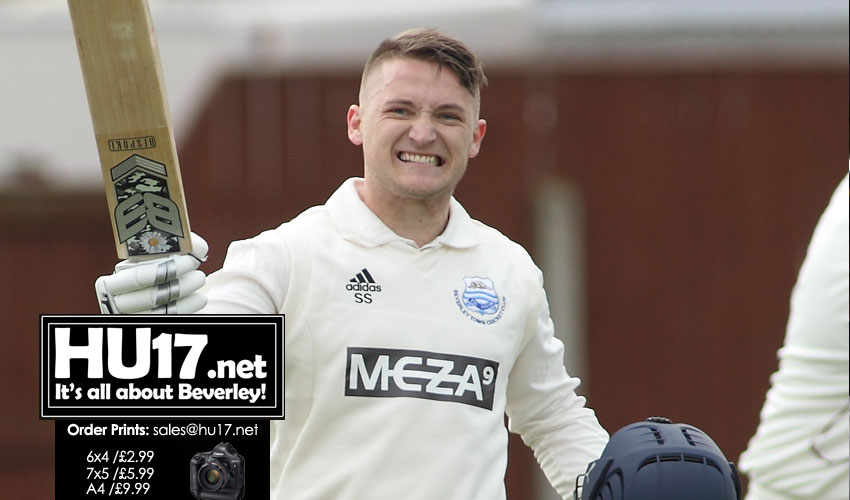 Stew Scott says it was amazing to score 160 for Beverley Town Cricket Club in their win at the weekend over Hessle.
Scott who made a shock move from Cherry Burton to Beverley Town Cricket Club in winter as he looks to try and improve and play at higher standard.
Speaking about his score, he said;
"It was amazing mate. It was my third game for Beverley and coming back after a good knock of 67 last Sunday, I have been feeling good with the bat."
"My 160 was something very special to myself, but been part of such a young, promising team is what it's all about."
Scott worked hard for his runs and also made his partners work hard to in the middle squeezing out twos and threes running between the wickets.
As the game progressed he looked stronger stroking the ball around the park. Scott thinks the side have a bright future with as the youth starts to come through, he added;
"We had a very young team as there was only three of us, who where over 18-year- old. I couldn't believe the talent of some of the younger lads."
"Some of them where as young as 12 and their fielding and bowling was exceptional."
"All the young ones where heavily involved and it's great to see. We have put on over 600 runs in our last two innings and not many teams can top that."
"Skipper Kev Thompson deserves a lot of praise as in my eyes he captained the lads very well."
"It's not easy to keep so many young lads involved, whilst trying to win the game at the same time, so fair play to Kev for that."
"We have Walkington at home next week where we start again and do what we have to do to stay at the top of the table."
"All four teams are looking very strong this season so it's looking bright for us as a club."
Beverley won the match by 219 runs as they posted a score of 311 with Hessle CC managing just 94 in reply.