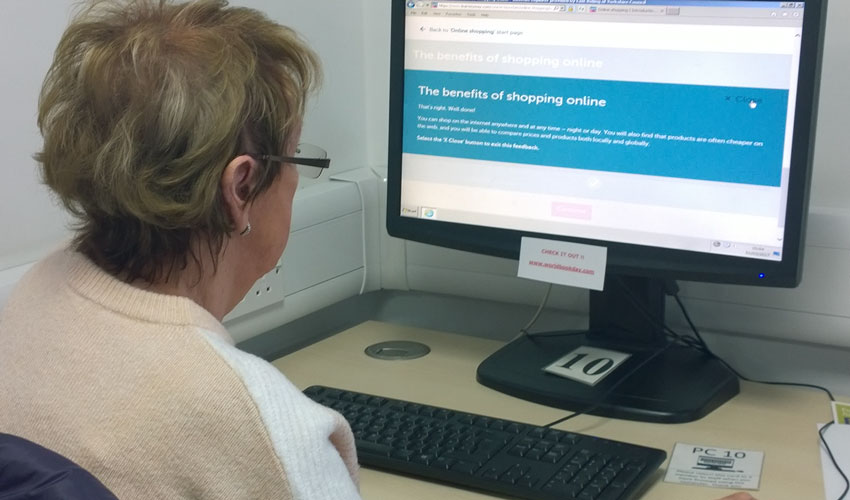 East Riding of Yorkshire Council staff are helping residents to get online as part of a two week campaign that includes drop-in sessions at multi-service centres (MSCs) in Brough, Driffield, Haltemprice, Hessle, Pocklington and Withernsea.
Be Online encourages people to use more online self-service facilities and access websites such as Learn My Way to improve digital skills with free online courses. These include online basics and safety, finding work online and CV writing.
The drop-in sessions have been well-received by those visiting the MSCs and have resulted in several new people joining the library and also learning new skills such as how to report issues by using the council website and also how to get the most out of tablet devices.
Maureen Tooley, a retired resident in Hessle, had computer lessons in the past, but still keen to learn.
"It's been excellent, "she said. "I had computer lessons years ago but I've started from scratch again, now it's all coming back to me."
Maureen wanted to make a scrapbook with old photos she had uploaded. "I've been shown websites that I can work with, it's excellent. I would recommend for people to come in and give it a try."
The council's digital champions have also supported a group of ladies at East Riding Leisure Haltemprice. The group uses the free public Wi-Fi at libraries to practice and learn about their own tablets with each other, there are several such groups that meet regularly across East Riding.
The group signed up to Learn My Way and were pleased with the easy to-digest courses as well as looking at different websites for their interest, such as Walking the Riding and www.lovefoodhatewaste.com for recipe ideas. They also helped each other download apps, and were streaming albums by the band Queen by end of the session.
Councillor Jonathan Owen, deputy leader of East Riding of Yorkshire Council, said:
"With technology such as smart phones and tablet devices becoming part of day-to-day life, Be Online is a campaign that this council is keen to support and our digital champions are helping residents develop the skills needed to make the most of online.
"The council is investing to further develop its digital services and will soon launch its new website; these changes will enable residents and businesses to access a much wider range of consistent, user-friendly self-service tools for reporting, requesting, booking events and services and making payments."
The council's library and information service and recruitment teams have been working in partnership with the Halifax and Job Centre Plus as part of Be Online, delivering seven activity sessions with over 100 participants.
Job seekers were given a presentation and advice in using the council jobs website, registration and application, focussing on the requirements to be considered for interview.
Halifax bank advised job centre plus customers on the apprenticeship opportunities within the Halifax bank network and Job centre customers were assisted in job search, form filling advice and accessing library digital resources using job centre PCs and library tablets.
Many customers and staff commented that they didn't realise that libraries provided so many free digital resources, such as public access computers, free unlimited Wi-Fi, eBooks, eAudiobooks, eMagazines and eComics, plus the library catalogue and the library app.