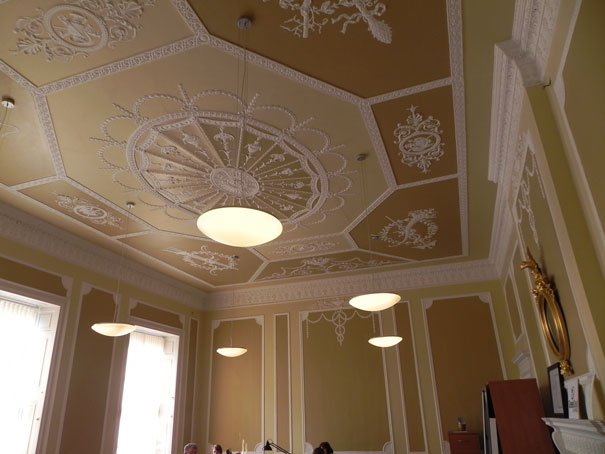 Beverley Georgian Festival is now less than a hundred days away. It begins on Saturday 13th September with Heritage Open Day, when Georgian houses and some gardens, will be open from 1030 to 1630, free of all charge and welcoming all comers.
Besides the Minster, which had several major alterations during the early 18th century, and St Mary's church, which has memorials of that period, the Guildhall will be open for three days during the Heritage Open Day scheme; Thursday, Friday (pre-booked but free tours at 1200 and1400 hours).
A unique occasion is offered by the generosity of several owners who have kindly agreed to open their houses on Saturday 13th. The Elms, 29 North Bar Without is a handsome private house built about 1744 which still retains much of its original features. Behind the building is a large garden, once part of the parkland which stretched back to Westwood.
Newbegin House, 10 Newbegin, is another large Georgian house with a fine garden; a few doors from that is No. 6 Newbegin, a delightful unspoilt mid-18th century property with a compact garden. No 15 Highgate has a fine Georgian staircase leading over the dormer roof.
Other grand Georgian properties, no longer used as private houses, are available to view. First is Lairgate Hall. On the death of Admiral Walker in 1925 it was bought by the Borough Council. East Riding of Yorkshire Council sold it to a private company in 1999 since when it has been closed to the public.
Now beautifully restored this will be the first occasion on which members of the public will be able to walk round and admire the 18th century Chinese wallpaper, the room with musical carvings and the handsome staircase. Another building once the home of a Beverley MP (William Beverley, an American) is Norwood House. After serving as part of the High School for almost 100 years part of the house has now been carefully restored to its former glory.
The Old School House in Keldgate, unless sold before September, is open for view and the extensive garden next door, a place of winding paths and a sense of tranquillity will also be open. Also open will be the main hall and staircase of St Mary's Manor, North Bar Within, built in the late 18th century for Henry Ellison, a wealthy member of Beverley society.
If visitors taking part in this Open Day feel in need of refreshments Kavanagh's Coffee House, Toll Gavel, will be open; on the first floor will be an exhibition of historical facts and pictures associated with the house, built in 1703. 39 North Bar Without is a traditional Georgian house built by a Beverley builder William Middleton. On view is a large garden behind the house where, if the weather if fine, tea will be served.
The Festival is nine days long, funded principally by the Heritage Lottery Fund and Beverley Town Council. There are 26 events, many free; however some need tickets even if they are free because of limits on numbers.
Full programmes from the Beverley Tourist Information Office, 34 Butcher Row, Beverley HU17 OAB.
Photos by Colin Bradshaw