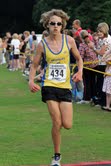 Beverley's men took first place in the team prize at last Friday evening's Airkool Walkington 10k road race, organised by Beverley Athletic Club.
The race was run in hot and humid conditions, contrasting with the downpours of the previous year which had turned the final lap of Walkington playing field into a mudbath. This year, the playing field was dry and runners had to compete with the high temperatures rather than with the mud.
A total of 561 runners completed the undulating course, which heads out into the countryside from Walkington, returning via Little Weighton. The race is noted for its friendly and relaxed atmosphere, and after their exertions runners could indulge in cakes baked by Beverley AC members and sold at a stall to raise club funds.
On a day when the heat slowed all runners down, the winner of the men's race was Steve Bateson (East Hull Harriers). His time of 33:31 was slightly slower than for the previous year, where he recorded his first victory at this race. The first few runners were well spaced out.
Bateson was followed by Phil Taylor (Bridlington Road Runners) who finished in 34:25, and Gregan Clarkson (Kingston upon Hull AC) at 35:01. In the women's race, winner Cheryl Oakshott (City of Hull AC) recorded a time of 41:49. Oakshott had taken third place last year and was pleased to win the race this time round. She was followed by Sarah Rookyard (East Hull Harriers) in second place at exactly 42 minutes, and Helena Schofield (Scarborough AC) in 42:33.
The victorious Beverley men's team consisted of James Pearson, Harry Powell and Mark Dalton. All three had good individual runs. Pearson was 4th overall in 36:20. Powell, still representing the junior section of the club ran very well to take first place in his under 18 age category, and 8th overall in the race, in 37:56. He was followed in 11th place by Dalton. Dalton's time of 38:46 also gave him 2nd place in the V50 category. The women's team race was won by City of Hull AC, with the team consisting of Oakshott, along with Fiona Robinson and Pam Richards.
There were 38 runners representing Beverley AC, and some of them also recorded strong performances in their age categories. Pam Atkins was 3rd in the F60+ category, clocking 59:34. The club's junior members are becoming increasingly prominent and are currently setting high standards. Nine ran the 10k. As well as Powell, Ethan Dalton ran well to record 41:12 and take 3rd place in the under 18 category and 33rd overall, and Elizabeth Evans was the 2nd female under 18 runner, in a time of 49:35.
Before the 10k race, 93 runners took part in a 1.7 mile fun run, which finished with the same lap of the playing field. 11 Beverley AC juniors took part. Laura Duncan was the fastest Beverley girl. She took 8th place overall and was the 2nd female runner, recording 11:02. The fastest Beverley boy was Taylor Arnott, who took 5th place overall in 10:45. The boy's race was won by Luke Chapman (Hull Achilles) 9:47, and the fastest girl overall was Alisha Laidler (Rothwell Harriers), in 10:49.
Beverley AC times (10k)
James Pearson 36:20, Harry Powell 37:56, Mark Dalton 38:46; Andy Johnson 39:41, Peter Fielding-Smith 40:55, Ethan Dalton 41:12, Paul Clark 41:48, Philip Reese 42:56, Conor Spilsbury 43:11, Steve Evins 44:39, Jordan Arnott 44:30, Curtis Arnott 44:49, Stephen Williets 45:37, Mike Evans 45:35, Graeme Pittaway 45:47, Simon Pick 46:54, Michael Anderson 47:34, Wayne Murtagh 48:23, Edward Prew 48:57, Kelvin Arnott 49:05, Elizabeth Evans 49:35, Bruce Woodford 52:07, Andrew Wheeldon 52:25, David Robinson 52:14, Tom Baxter 53:24, Dayna Arnott 54:22, Kelly Dawson 54:22, Neil Sergeant 54:28, Mark Oglesby 56:22, Steve Ostler 56:53, Pam Atkins 59:34, Mark Dawson 59:34, Denise Thompson 59:52, Kay Farrow 1:02:42, Elaine Julian 1:02:49, Jacqui Dickinson 1:03:44, Catriona Williamson 1:05:20, Frank Harrison 1:06:32
Beverley AC times (Fun Run).
Taylor Arnott 10:45; Oliver Douglas 10:57, Laura Duncan 11:02, Jonathan Dennison 11:08, George Williams 11:27, Eleanor Boyd 11:54, Rebecca Turner 12:01, Aidon Glover 12:07, Francesca Brittain 13:06, Jordan Peacock 13:06, Chloe Broadbent 13:30, George Allen 13:50, Nicola Glover 14:02