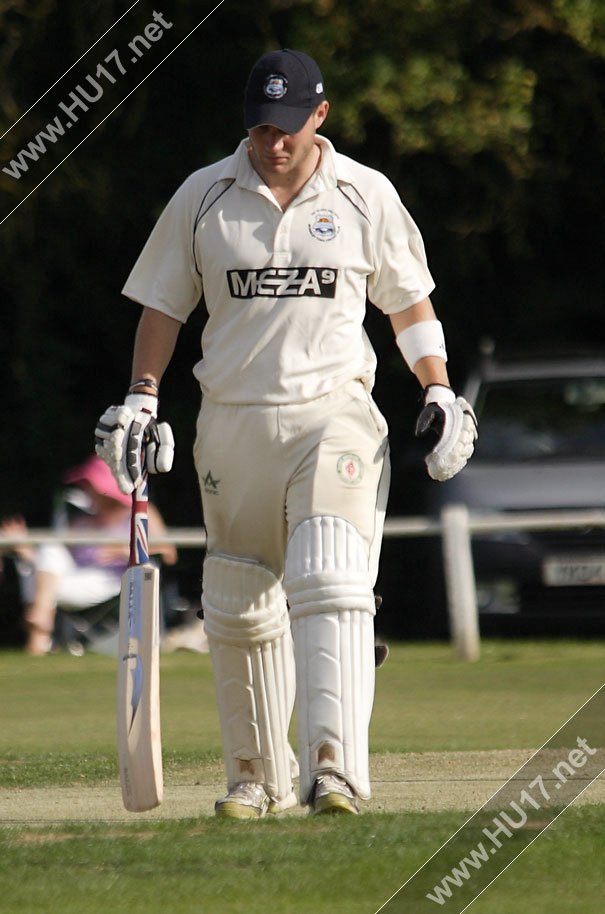 On a good looking wicket (one of the only of the year) Alan Acklam yet again lost the toss however Beverley were asked to field. Mudd did his tiical trick of bowling badly but yet continuing to pick up wickets.
Mudd has had a fantastic season finishing leading wicket taker in the league, however he also has two more league winning stats having both gone for the most runs and also bowled the most overs. Matthew Mudd also known as "the love child" finished the day with five wickets in his 17.5 overs, supported by Peter Groves' off spin who was brought into the attack disgracefully late on a wicket that suited spin. Groves finished with 4-41 as Studley closed on 235.
Beverley went out to bat eyeing an early finish. Whilst Groves took advantage of some early loose bowling Fish dotted out at the other end. Many have question whether it is worth Fish travelling up from Somerset each week given his poor batting form, but it has to be handed to the lad, he can drink! Fish succumbed to a cracking bit of bowling, a wide long hop that even Mudd could have hit to the boundary and was caught at point. Olly Grantham then strutted to the crease coming back in to first team after a spell in the 2's.
Grantham then proceeded to hog strike for the next 20 overs, it was literally outrageous, he has obviously been chatting to Jamie Mitchell for too long. As Studley continued to bowl garbage Groves (on the odd occasion he got some strike) and Grantham smashed it everywhere both reaching their hundreds. Whilst Granthams hundred came off 150 balls Peter Groves with limited strike managed to get his off 80 balls. During Groves' effort to entertain he lost his poles with 12 needed and Beverley eventually knocked off the 235 for the loss of only 2 wickets with only 38 overs needed.
This brings an end to a difficult season for Beverley having only been safe from relegation half way through Saturdays match. Beverley will be looking forward to next year and the continued development of young cricketers such as Greg Whyley, Beverley's best young spinner. Alan Acklam has done very well in tough circumstances marshalling an underperforming side.
Beverley enter a big season for the club next year with sides in both the premier and div 1, thanks to 2nd teams fantastic effort of winning the league. Tim Smith the skipper might be in for a big shock as apparently div 1 has bowlers who are quicker than 65mph, and we all know the lad struggles against pace.
Hopefully Simon Roe will be playing next year after a taking a year off to take up drinking more seriously!
Rumours of Andy Hamson transferring to Fenner's continue as he is frustrated at the lack of overs he's been getting compared to golden boy (Mudd).
Anthony Spence otherwise known as the legacy failed to show up to the end of season court session, raising the prospect of him transferring to Driffield, all I can say is, their 3rd team would be lucky to have a player such as Spence providing he is actually allowed out the house!