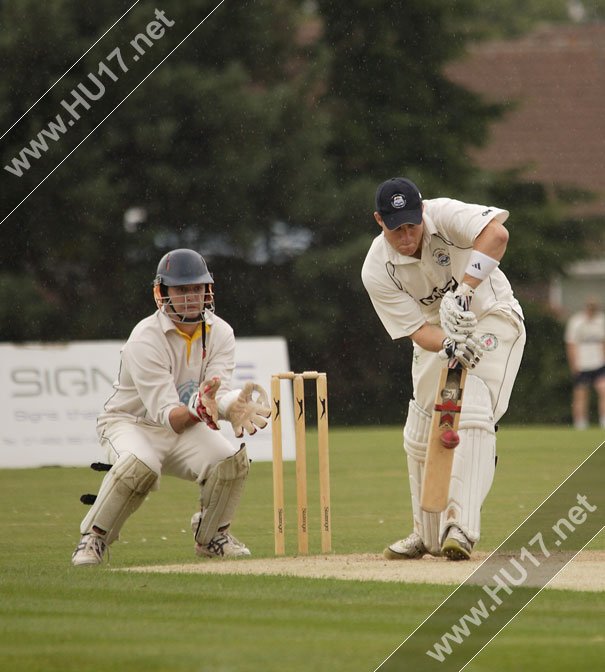 Another rain affected day, another lost toss from skipper Alan Acklam. Beverley Town Cricket Club were swiftly asked to bat on what was a soft wet pitch.
Jon Fisher and Peter Groves formed yet another opening pair both of whom looked exceptionally fresh after a peaceful weekend. A good start followed due to some loose bowling from Dunnington, Groves particular cashing in to some ill-advised short bowling.
Fisher fell in the twenties to yet another loose shot and was caught at mid-off. Iain Gillyon continued where Fisher had left off taking Beverley through to 102-1 when the rain came.
The match was then reduced to 30 overs per side, leaving Beverley ten overs to have a slog. Groves' nap at the early tea break didn't do the trick as he missed a straight one in the first over after the break. Enter Faisal, batting for 9.1 overs he blasted 58 not out, including 23 off the last over really swinging the game in Beverley's favour.
Beverley's bowling started as it always does at Dunnington, Matthew Mudd being hit into the neighbouring field. However he then struck twice in quick succession including the prized wicket of Collis King trapped LBW, Moobs strikes again.
It was the Bradley Dobson's turn removing Dunnington's star player with a superb delivery, and then one of their young players with not such a good delivery. Adam Nicolson then marker his first game in six weeks with two wickets as Dunnington slumped to 60-6.
The rain continued to come down and with the clouds rumbling in Dunnington lost one more wicket with the game being rained off with 7 overs left leaving Beverley with 12 points rather than the 30 points had the rain stayed away.
Next week Beverley take on Goole, who are already relegated, a trip for which the only reason to look forward to is the barmaid.