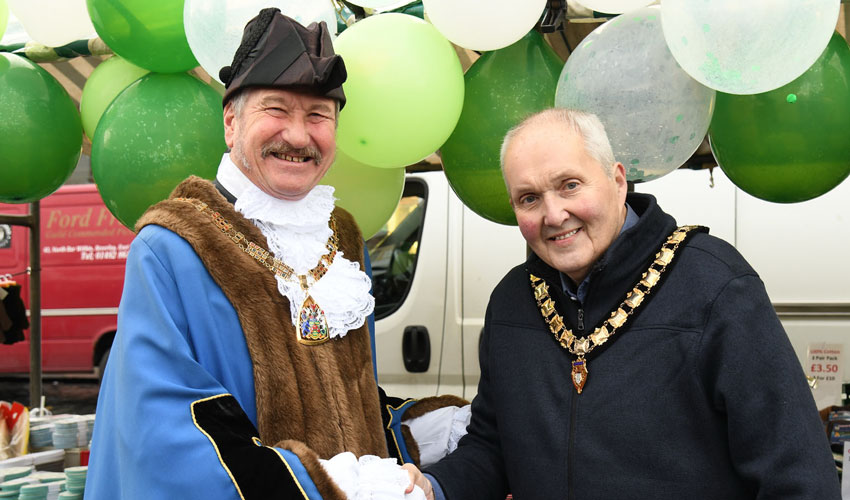 57 years of trading at Beverley market led to a celebration for a stallholder who retired from trading in the historic East Yorkshire Town.
Having started at Beverley's Saturday market at 16 in 1966, John Dyson spent his last day (on Saturday 14 January) with old and new colleagues, and with balloons decorating his stall.
John was presented with a cake and a picture of the market by current stallholders, while his wife Pearl received flowers and former traders and a former market officer attended the farewell party.
East Riding of Yorkshire Council Chairman, Councillor John Whittle, congratulated him at the market and said:
"It was a pleasure to thank John Dyson for his remarkable years' service as a stallholder on Beverley market, and to wish him well for the future."
Richard Lascelles, the council's markets officer, said:
"It's the end of an era. It's a shame to lose someone with so much experience.
"When I started, John was a big help to me, he's always been someone to rely on, and he will be missed."
When he first set up his stall, John, 72, couldn't drive. He relied on lifts from others to get to his stall. Since then, Beverley's market has grown considerably.
He said:
"I did say I didn't want any fuss when I left, but I'm glad. Some of the comments I had were unbelievable and I saw a few people I hadn't seen for years."
Despite retiring from Beverley market, John will continue to sell hosiery and socks at Pocklington and Cottingham markets.
In addition, he intends to continue working with the national federation to encourage new blood to enter the market industry.