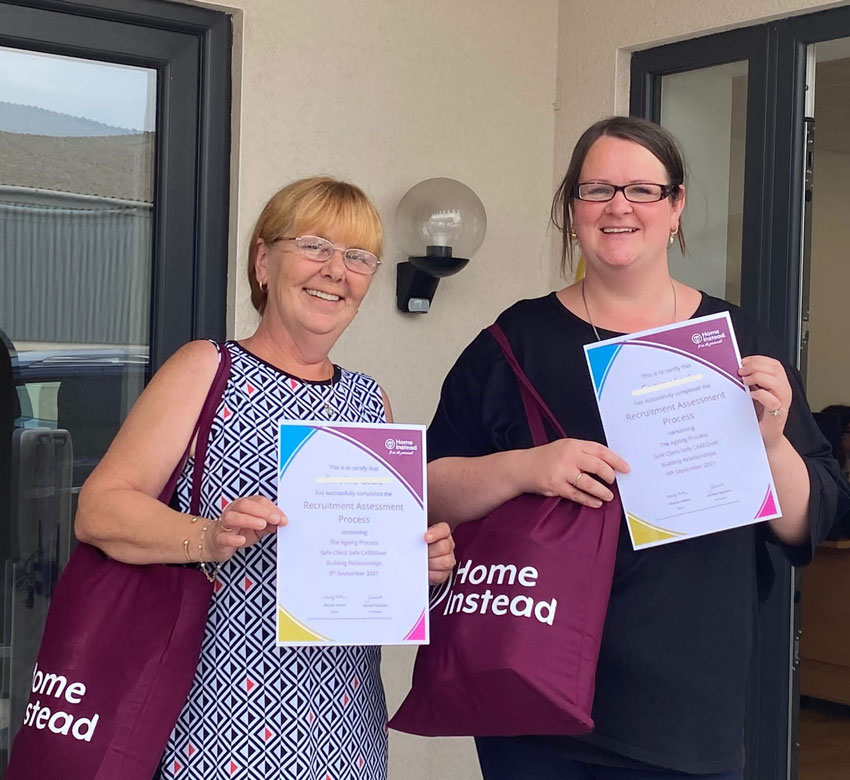 When looking for a career we all have a list of boxes it needs to tick. For some of us, we need a role that fits around our families, for others, we need to feel like we are making a difference or maybe we need a job where every day is different. Is there a career that ticks all these boxes and more?
We sat down with Gemma and Caroline to find out why being a Care Professional is ticking all their boxes.
How long have you worked in care?
G: 15 months
C: 20 years on and off
What do you enjoy about the job?
G: Making a difference to someone and I like seeing them happy and settled
C: At the end of the day, you feel like you have achieved something, and it makes you feel good.
What jobs have you both done before? And why is Home Instead different?
C: I have worked on and off in care for 20 years, but I left care and went trucking with my husband, but now I have come back. I love the amount of quality time Home Instead allows you to spend with the client, you don't feel rushed or stressed. You have time to get to know them as individuals which makes the visits relaxed and enjoyable.
G: I have previously done farm work, office work and stock taking, and after having a break to look after my kids I worked in a supermarket. I enjoyed working with people so when I was looking for a new role, I wanted a role that offers variety, but also a role that fitted around my family. In my previous roles, I have just been a number and sometimes they didn't even know my name. But at Home Instead, it is different and its more personal
C: Yes, you do feel more like part of a team, there's always someone at the end of the phone and I wouldn't hesitate to ring because everyone is so nice.
Do you feel that the job lived up to your expectations?
C: It's better, because of the longer visit time and the travel you get. My previous experience of care was always rush rush rush, there was no time to have a chat with the client and I would have to begin every visit with "sorry I am late", you would have to pinch time from clients to keep up and I would feel bad and guilty …. but now it is a doddle.
G: I had spoken to friends who have worked in care before, but they didn't speak very positively or enthusiastically about the role, but I love coming to work and having adult conversations.
Has either of you got any funny or rewarding experiences that you would like to share?
C: I had a client that prior to us starting hadn't been getting out of the house. One day, we went for a walk down the lane, which was the furthest she had been in years. When we got back she put her head on my shoulder and said "that was wonderful!" … well I just melted.
I also went to a client who was a man of very few words, he had Parkinson's and Parkinson-related dementia so even though I was going for a year I wasn't sure he knew who I was. Eventually, he had to go into a Care Home but on my last visit he used my name for the first time and said "Thank you Caroline" and even though they are no longer my clients, his wife said they consider me as part of the family.
G: I went to visit a lady who I was going to help with a shower, and she had just had her hair done, so she asked me to be careful and not wet her hair. Unfortunately, the shower got hose got taffled and it sprayed everywhere and soaked her hair! Well, we laughed our heads off.
What would you say to anyone thinking of a career in care?
C: Do it, it makes you feel good. I know we don't do it for us, but it does give you a buzz.
G: Just do it, it's rewarding and doesn't feel like work because your clients become your friends.
If it sounds like the Care Professional role at Home Instead ticks your boxes, please give us a call on 01482 231145 / 07709256823 or e-mail us at recruitment.beverley@homeinstead.co.uk, we would love to hear from you.