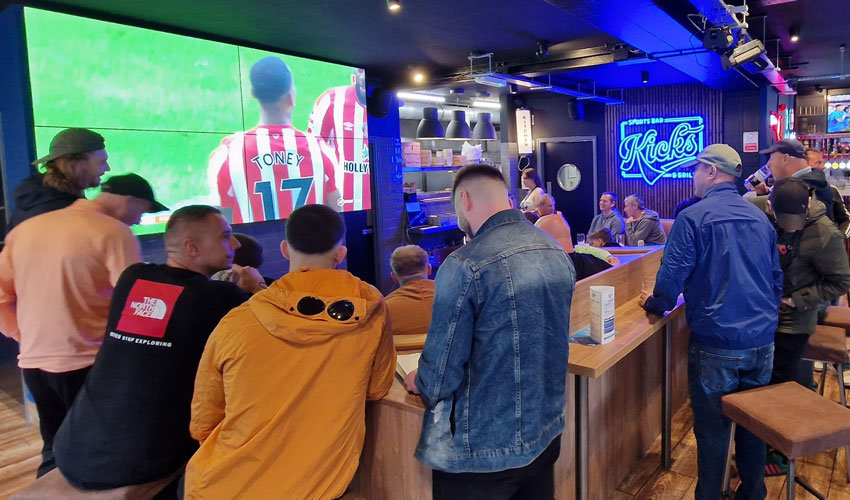 A first winter World Cup in Hull city centre could boost business and pave the way for a stellar Christmas for bar operators.
As the tournament begins at 4pm on Sunday 20 November with Qatar's match against Ecuador, most pubs in the city centre will show all 64 matches live on TV.
At 3pm on Sunday 18 December, the final will take place, and fans are already anticipating success for England, with sports bars reporting sell-outs.
Lucas Billingham, one of the owners of Kicks Bar & Grill in Paragon Street, Hull, said:
"It's standing room only for England v USA and it's heading that way for England v Wales. People can still book seats and booths for the other games but they are selling fast and demand will pick up for the big games to come in the knockout stages."
Since opening in September, Kicks Bar & Grill has proved a big hit with fans of all major sporting events.
In order to manage the crowds at the bar, Lucas announced that all England games would be ticketed, offering a screen at every eye line, a video wall, and state-of-the-art surround sound.
The standing ticket costs £5 and comes with a free first drink. A variety of booth and table packages are also available, and up to the upstairs VIP box, which offers a beer keg with 176 pints and a hot or cold buffet for up to 30 people in a luxurious private room with a giant TV and 3D surround sound for £1,000.
Lucas said:
"It's a bit of an unknown entity for us because it's a winter World Cup. We would expect to be busy anyway as we approach Christmas and it may be that some people will combine football with their festive nights out.
"We'll be adding to the fun with DJ sessions featuring music relevant to the teams so people won't feel they need to dash off when the matches finish."
All the games and Oscars will be shown at the City Hotel, O'Leary's, Telstar 2 and Tiffany's in Old Town. Humber Dock Bar & Grill in the Marina area and Taphouse on Humber Street will broadcast all games. The Social bar in Humber Street will show England's games against Iran and Wales, while the Tribal Bar & Grill in Humber Street is also gearing up for a busy month of sporting events.
Tom Jessop, assistant manager at Tribal, said:
"We get busy with football, rugby and the big boxing events and we're already getting a lot of bookings for the World Cup. Some matches more than others, and England v USA on a Friday evening will be a big one."
The bar offers eight inside bars and two more facing Humber Street. With a capacity of 150, Tom anticipates bigger crowds than last year's Euros.
He said:
"With so many screens we can make sure we are able to show every match live, even when other events are on – including the final games of the group stage with simultaneous kick-off times.
"We're looking forward to it, in part because we couldn't really make the most of the Euros because of the Covid restrictions, but also because it's the World Cup and they don't come around very often. We're getting a lot of people calling and emailing with bookings, anything from two people to 10."
The Dram Shop in George Street and Hull Cheese in Paragon Street will both show every match of the World Cup.