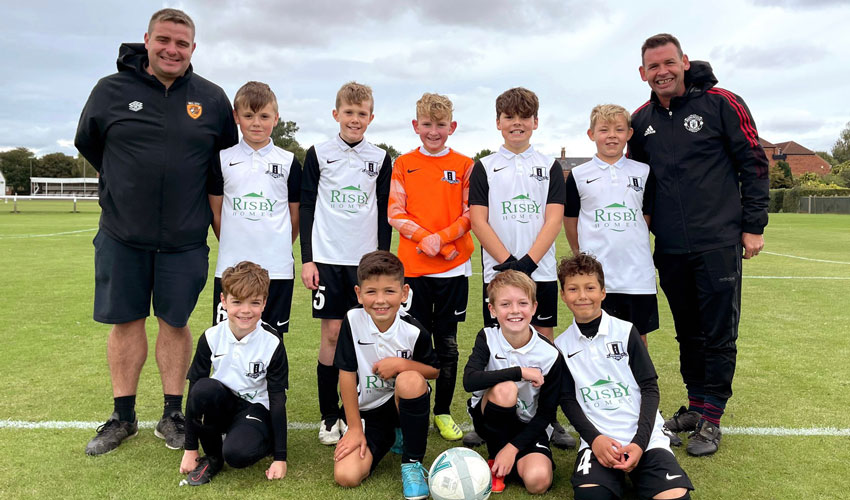 As an East Yorkshire home builder committed to creating communities where families thrive, play and grow, Risby Homes is pleased to support Beverley's newest football team, Westwood FC.
Westwood FC is the market town's new under 10s team for the 2022 season. Many of the players live in Risby's Shepherd's Rest development and attend local schools.
The company is delighted to support Westwood FC because grassroots sport is often at the centre of communities.
Amy Owen at Risby Homes said:
"Our mission is to create new communities where families can thrive, grow and play. From sponsoring sports teams to helping communities come together to celebrate occasions like the Jubilee, we understand the importance of community."
"With grassroots sport often at the heart of communities, we're delighted to support Westwood FC, giving our young residents the chance to play football together."
"Many clubs are run by volunteers and parents so sponsorship gives them additional support. Team sports help develop children's skills and communications, a place for them to come together outside of school being part of a team helps give children an identity."
"My brother Olly and I both benefited from many charity-run teams when we were younger and are passionate about continuing this through our family business."
Alex, aged 9, who lives in Shepherd's Rest and plays for Westwood FC, said:
"I love being in a team and playing football with all my friends."
Westwood FC Coach Grateful For Support
Glenn Anderson, the team's coach and Shepherd's Rest resident, said:
"The boys love playing football together and play at school, so it's great they now get to play as a team.
"We can't thank Risby Homes enough for their support, which has allowed us to help make the team happen. There's so much work that goes into setting up a new team, from new kits to entering and travelling to tournaments, their support has been invaluable.
"We're really proud to be called Westwood FC after Beverley's iconic green pastureland and chose our black and white kit in recognition of the black windmill."
The company also sponsors the rugby teams at Beverley Grammar School as part of a five-year partnership with Risby Homes.
Beverley Fringe and Beverley Cherry Tree Community Centre are other local organizations that Risby Homes has supported this year.