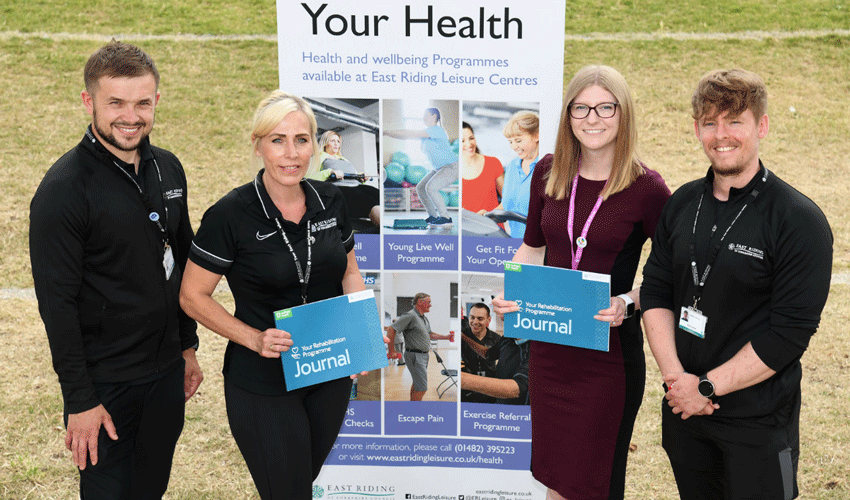 East Riding of Yorkshire Council and Nuffield Health, the UK's largest healthcare charity, has announced the first local authority partnership to run the Charity's COVID-19 Rehabilitation Programme, in order to help support local residents with long-lasting or returning symptoms after COVID-19.
This is the first time the COVID-19 programme has been made available to an area not already served by one of the Charity's facilities, expanding the programme's reach into new areas to support health and wellbeing ambitions on a local level.
Initially available virtually and in-person at Nuffield Health's fitness and wellbeing centres, the specialist 12-week rehabilitation programme, which supports patients in their recovery after they have received medical treatment for COVID-19, will be made available to both residents and those that work within the East Riding.
After recognising the demand for further treatment within the local authority, East Riding of Yorkshire Council approached Nuffield Health to collaboratively deliver it's COVID-19 Rehabilitation Programme to residents in need. Those who are still suffering from long-term effects of COVID-19 can be referred to the programme through the Humber Long COVID Triage and Assessment Service or their GP.
The free-to-access 12-week programme blends physical therapy and mental health support. Participants work with an East Riding fitness instructor for personalised advice and on a recovery plan, consisting of a six-week virtual programme of at-home exercises, before attending an East Riding Health and Wellbeing Centre for the remainder of the programme. Participants will also receive access to on-demand workouts, weekly support calls and will be able to access peer support from others who have had similar experiences with the long-term effects of COVID-19.
Nuffield Health's COVID-19 Rehabilitation Programme is independently assessed and has been shown to reduce the physical, mental and financial burden on individuals, families and the NHS. Initial findings from the programme have shown that, on average, participants showed a 64% improvement in mental wellbeing, a 39% improvement in functional capacity, a 39% improvement in breathlessness and a 35% improvement in fitness.
This is a testament to the joined-up approach of the programme which focuses not only on the physical aspects of the disease but the mental challenges that one has dealing with the symptoms. The partnership with East Riding of Yorkshire Council further cements the charity's commitment to supporting local communities and improving the health of the nation.
East Riding of Yorkshire Council's leader, Cllr Jonathan Owen, said: "I am delighted to announce the launch of this specialist and collaborative COVID Rehabilitation Programme with our partners at Nuffield Health, who have enabled our colleagues in public health to bring an already proven and what we hope will be a really accessible and supportive offer, to those that live or work in the East Riding and struggle with long-lasting symptoms of coronavirus.
"As we all learn to live with the virus, public health and the health and wellbeing team continue to research the impact of this, in many ways, still unknown and changing virus, and how it can alter the day-to-day lives of many residents, alongside our local NHS partners. I will follow with great interest, the experiences of those that are referred to this programme, and await to hear positive outcomes."
Davina Deniszczyc, Charity and Medical Director at Nuffield Health, said:
"For many, the impacts of the pandemic are still evident within their health and wellbeing, and it's imperative that we continue to monitor and treat long-term effects of COVID-19 to help those who are still suffering. Our COVID-19 Rehabilitation Programme is proven to support the health and wellbeing of those who have been impacted both directly and indirectly and continues to support our NHS following this turbulent time. It's our pleasure to work with East Riding of Yorkshire Council to implement the Programme quickly and efficiently to begin supporting those who need it most."
Angela Williams, public health lead at East Riding of Yorkshire Council, added:
"Public health and the health and wellbeing team at the council are pleased to launch the COVID-19 Rehabilitation Programme, which we have been working on with Nuffield Health for the past 10 months. Alongside our colleagues and healthcare partners in the NHS, we continue to learn more and more about the wide-ranging and, for a number of our residents, long-lasting effects of coronavirus, on people of different ages and backgrounds.
"This programme will hopefully provide reassurance and acknowledgement for those joining our first cohort and their loved ones, to help make some positive steps for their future recovery and self-management of their Long COVID symptoms. We are excited to see the benefits of this programme as we begin working with our first group."