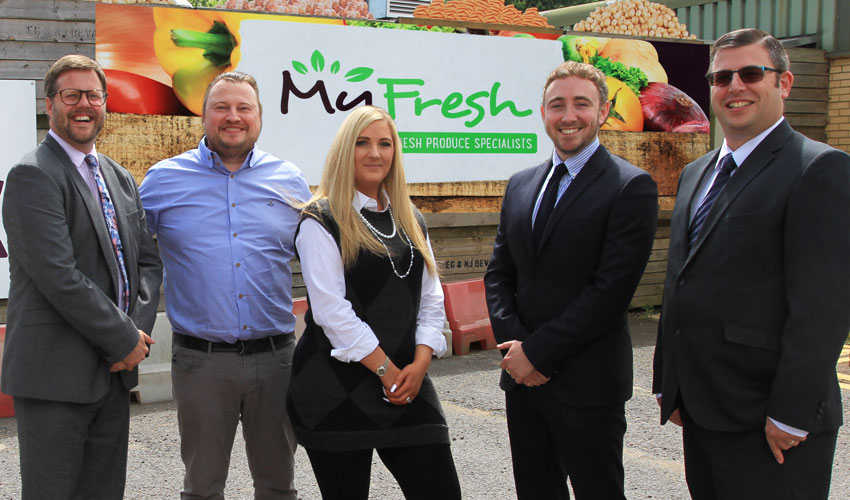 Six months after expanding its food business by buying Saxon Foods, a Hull-based business has boosted its commercial operations yet again with the purchase of another subsidiary company, with help from leading Yorkshire and Humber law firm James Legal Solicitors.
Steve Humphrey, the owner of the Tuber Group Limited, invested in the Scunthorpe company – a plant-based convenience foods manufacturer – last autumn, and has now completed a complex acquisition to become the owner of fresh produce processor My Fresh, a subsidiary of the William Jackson Food Group, for an undisclosed sum.
Tuber Group, based near Hull, is continuing to scale with the acquisition of fresh produce processor MyFresh for an undisclosed sum.
MyFresh, based Bedfordshire, has been part of the William Jackson Food Group since 2006 and is one of the UK's leading processors and suppliers of freshly prepared vegetables to the business-to-business (B2B) and food service sector.
Its range includes peeled and chopped potatoes, onions, carrots and sweet potatoes, plus pureed products. It has a 150-strong team based at its British Retail Consortium Grade AA-accredited vegetable processing facility in Chicksands, which includes an anaerobic digestion plant on site, generating electricity from vegetable waste.
Based in Hessle, Tuber Produce was founded in 2017 by Steve to supply potatoes to food processors and packers in the UK. It procures a wide range of fresh and frozen produce for food processors and food service businesses worldwide.
Since acquiring Saxon Foods, Tuber has added a range of allergen free frozen products to its portfolio.
"This latest acquisition marks another exciting milestone in the development of Tuber Group as we continue to expand the range of food products we offer and optimise our global procurement capabilities," said Steve, Owner and Managing Director. "The addition of a well-established vegetable processor like MyFresh is a great fit for us given Tuber Group's established position on the global vegetable trading stage, alongside our added-value potato manufacturing site, serving both retail and food service. It will give Tuber Group a great opportunity to grow the offering to MyFresh's current customer base and drive sales in the B2B and food service sectors."
He continued: "Our intention is to invest heavily in the MyFresh site, installing cooking and freezing capabilities, alongside a high-care operation for storing high-risk foods such as dairy products, eggs, meat and seafood. This supports our aim to become the UK's biggest 'one stop shop', supplying freshly prepared, cooked and frozen, and ready-to-eat vegetables, along with pureed products, to B2B, food service and retail clients.
"There's a fantastic team at MyFresh and we're looking forward to working with them as we take this great business on the next step of its journey. By building on MyFresh's many years of knowledge and expertise of the fresh prep sector, we will drive it into new areas, such as ready-to-eat products, direct to retail, and aim to add significant value to the food sector as a whole through our innovative ideas."
James Watson, CEO of William Jackson Food Group, said:
"This sale represents a great opportunity for MyFresh to join a like-minded business with expertise in fresh produce and plans to invest and expand into new markets. We've known some of our MyFresh colleagues for 16 years so it's hard to say farewell, but I have no doubt that this opportunity is what MyFresh needs to thrive."
The Tuber Group has spent decades working in the food industry, and its potato and vegetable supply company has gone from strength to strength, operating across six countries, with offices in the UK, America, Spain, and Egypt.
Its acquisition of Saxon Foods was a complex deal that involved four different legal teams all collaborating to ensure a timely completion.
Driven by a desire to boost the level of home-grown food supplied to British retailers, as well as increase British exports of fresh and frozen foods around the world, Tuber has its sights set on innovation. After the Saxon acquisition, it immediately began looking towards expansion plans for the future with the aim of building a strong, diverse group of food companies with a focus on British brands.
And, when the opportunity arose to purchase MyFresh Steve wasted no time in asking James Legal to take the lead on the acquisition due to their expertise and level or service within this field.
My Fresh was established in 1987 and is the UK's largest ingredients-focused, prepared fresh produce business, preparing more than 35,000 tonnes of veg each year. Its veg come straight from the fields of trusted farmers all over the UK; the firm also sources some produce globally to ensure there is a robust year-round supply chain.
Senior Solicitor Byron Swarbrick at James Legal, which has offices in Hull and Beverley, led the purchase on behalf of the Tuber Group. He said: "Once again, we worked hard on Tuber's behalf to turn this deal around quickly and successfully. Selling or buying a subsidiary company is always a complex matter, especially as there are numerous stakeholders involved, but Tuber have earned a lot of respect from all the parties they work with, and everyone collaborated superbly to get the deal over the line."
James Legal Managing Director and Solicitor Simon Young oversaw the whole process. He said: "Thanks must go to Byron, and my fellow Director and senior solicitor Mike Stoney, who have both worked fantastically well together throughout this process. Everyone put in maximum effort on behalf of the Tuber Group, showing again how we continually go above and beyond to help our clients achieve their commercial objectives."
Of his experience of working with James Legal, Steve said: "Again, Byron, Simon and the James Legal team went the extra mile and really delivered for me. They were available around the clock and even went as far as cancelling annual leave just to help us – actions that I will never forget. They liaised brilliantly with the other parties involved in the deal and I couldn't have asked for more from them."
Simon added: "We look forward to supporting the Tuber Group with future company purchases and, as part of our ongoing relationship, we hope to be able to introduce them to other potential business opportunities.
"This epitomises what our relationships with our clients is all about – supporting them through their journey to achieving their business goals and realising their full potential."
Other advisers supporting Tuber with the deal included Mike Stocks of Smailes Goldie Accountants in Hull and Phil Trueman of Reach Commercial Finance in Leeds.