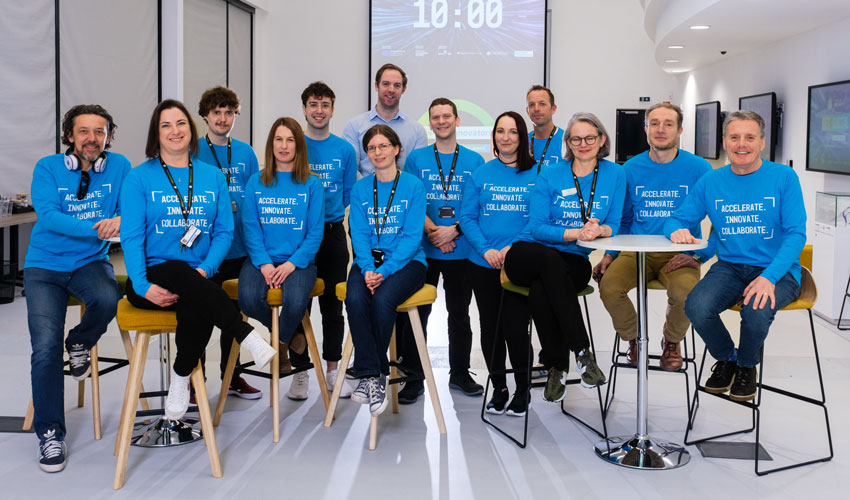 The team at the University of Hull's Aura Innovation Centre are calling for people to use this year's Humber Business Week to take action to make their organisations greener.
The Humber's net-zero centre, Aura Innovation Centre, which supports small businesses to bring their low carbon ideas to life, will be running several events over the week which will help organisations begin their journey to sustainability.
The annual Humber Business Week, which starts on 6 June, is about showcasing the wealth of talent, entrepreneurship, vision and future potential of the region. Supported by the University of Hull, it's a week led by businesses, for businesses.
With the Humber the highest CO2 emitter in the country, it's important that businesses in the region commit to their net-zero journeys. The Business Week events will give practical, focused advice on how to do this.
On Monday 6 June, the Oh Yes! Net Zero campaign will host the 'Finance, Football & Fish' event at the MKM Stadium. This will feature a lively panel discussion that will explore the challenges and opportunities around financing net zero action for Humber businesses. Chaired by Louise Smith of Aura, the panel will include representatives from the University of Hull, NatWest, Hull City Football Club and local businesses to help show how many options are accessible for local businesses to help fund their sustainability initiatives.
Book here for Finance, Football & Fish: https://www.eventbrite.co.uk/e/finance-football-and-fish-tickets-316838631877
On Wednesday 8 June, the Aura Innovation Centre in Hessle will host two events designed for businesses wanting to start the journey to sustainability.
During the morning, 'Climate Change? It's Not My Business' will walk people through the first stages of adapting to the challenges of the changing climate and becoming a resilient green business. Whether it's futureproofing your workforce, digitisation or dealing with energy price rises, this interactive, collaborative workshop will make sure you come away with practical steps you can take now to protect your business. This fun event will have a serious message, and is ideal for businesses who are unsure where to begin in their carbon-cutting journey, and for those who have started down the road to net zero but are unsure what to do next.
Book here for Climate Change: It's Not My Business: https://www.eventbrite.co.uk/e/climate-change-its-not-my-business-tickets-316624260687
Then in the afternoon session, 'Greening Our City' will show how any business, large or small, can play a part in Living With Water's Blue-Green vision for Hull and East Riding – a city-wide investment to manage our shared surface water flood risk. Hosted by Aura's sister team, the University of Hull-based Flood Innovation Centre, you can find out how to reduce the flood risk to your business premises and achieve your sustainability goals.
Book here for Greening Our City: https://www.eventbrite.co.uk/e/greening-our-city-sharing-opportunities-for-businesses-living-with-water-tickets-317734421207?aff=ebdssbdestsearch
On Friday 10 June, Business Week concludes with the popular Business Day at Bridlington Spa. With perfume legend Jo Malone as the headline speaker, business leaders from across the region will come together for a day of discovery and networking. The University of Hull will be showcasing how it works to support businesses at the event, including the chance to talk to the Aura Innovation Centre and Flood Innovation Centre teams about how we can connect your business to the research power of university academics.
Book here for Business Day: https://www.humberbusinessweek.co.uk/events/friday/2022-06-06-the-business-day
Aura Director Louise Smith said: "As the net-zero centre for the Humber, we're here to support the region's small and medium-size businesses to accelerate their green projects, helping them innovate by bringing them together with the University of Hull's expertise to make their low carbon ideas into reality. Climate change is going to affect everyone and the time for action is now, so we hope our Business Week events will give people a taste of what we can do to help them set out down the path to a greener future."
Other than Business Day, all these events are free to attend, but numbers are limited and advance booking is essential. You can register online now for all Business Week events at humberbusinessweek.co.uk