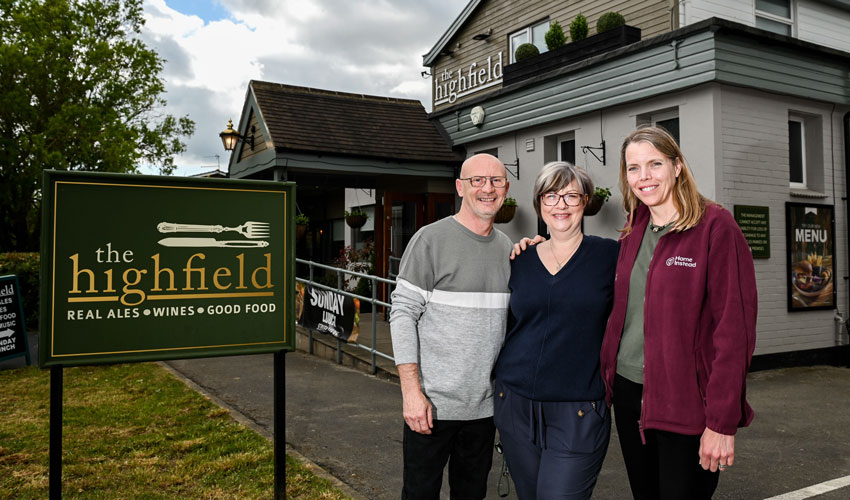 A Beverley pub is leading a drive to encourage the community to come together more.
The move is on the back of research revealing that whilst eight out of ten people believe socialising is important to their wellbeing 74% feel they have got out of the habit due to Covid.
Alex Perrin and Rachel Blake of The Highfield on Highfield Road in Beverley hosted a lunch for Home Instead carers and their clients to remind people of the joy of togetherness. Home Instead provides companionship and care for people to stay safe and independent at home as long as possible.
The event also marks the couple's six-month anniversary at The Highfield and the unveiling of a new outdoor terrace for 30 with a covered pergola with heating and lighting.
The couple wants to inspire those who have stopped socialising as much, as well as residents who still feel hesitant about going out, to join in the Platinum Jubilee Weekend festivities. While the duo also believe the once in lifetime celebrations are the ideal time to reconnect, especially for people who have felt cut off during the pandemic.
The lunch was subsidised by HEINEKEN's Brewing Good Cheer campaign, which celebrates the unique role pubs play as social hubs and in combatting social isolation. 
Since taking on The Highfield which had been closed for three of the last four years, Rachel and Alex have reinstated it at the heart of the community. They have introduced live entertainment, a weekly pub quiz, bingo and play your cards right and established a darts team.
Says Rachel:
"The biggest reason for wanting to take on the Highfield was an emotional one. I've known this place all my life and it played a big part in my youth. We also used it as a family later for many an occasion, including darts, our local, family get-togethers and sadly for a few wakes. We used to run the local greengrocers on the estate in the 80s so it was a go-to place for us. We couldn't bear to see it closed any longer and are so proud that we've been able to reopen it and give the community a place in which to socialise again. Our goal is to be the best local in Beverley.
"We saw first-hand how many people have struggled with feelings of isolation due to the pandemic over the last two years. Our response is to put on events to encourage people to come out and offers to make it affordable to do so. We're delighted to be hosting the lunch today and making it a regular occurrence.
"Families and friends missed out on celebrating major occasions together such as milestone birthdays, anniversaries, and Christmas. So what better opportunity to come together than this historic Platinum Jubilee weekend. It is so important for people's mental wellbeing to get out and socialise rather than stay at home not mixing."
Mandy Aitken from Home Instead says:
"During the pandemic, we noticed a big change in our clients who had previously enjoyed getting out to social activities, classes and even to the shops. They really missed the social connection of getting out into the community. Now that people are more comfortable about going out, we wanted to host a regular lunch event with the Highfield for our clients and their family members as well as others in the community who want to meet and socialise while enjoying lunch and entertainment."