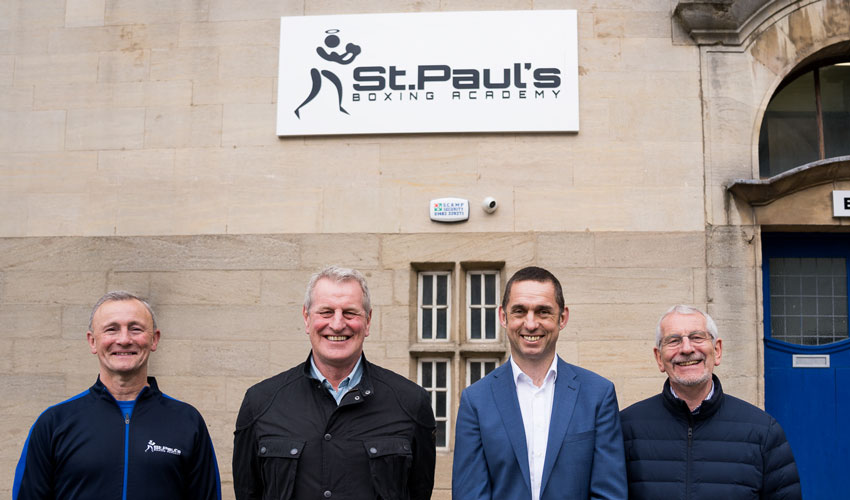 Hull's oldest boxing club has topped off a £1m refurb with brand new signage thanks to two well-known city-centre businesses.
Commercial property developer Allenby Commercial and Hideout Hotel – an apartment hotel on North Church Side – have clubbed together to provide the signage for St Paul's Boxing Academy, also based on the north side of Hull Minister.
The new sign is the crowning glory of a full renovation of the beloved boxing gym, which included a new roof, windows, and interior fit-out complete with new showers and changing rooms, kitchen, heating, and glass-fronted viewing area, IT facilities and more.
The work was funded by Hull City Council and a huge fundraising push which saw local businesses, individuals and club members raise money, and the St Paul's committee tap into grants and funds that support grassroots sport.
Mike Bromby, Head Coach at St Paul's Boxing Academy, described the new sign 'real class', adding that it helped to finish off the eight-month refurbishment.
"All this amazing work has gone on inside, so it's really good to see that reflected on the outside of the building. A lot of members have commented on how good it looks," he said.
"More importantly, perhaps, all our members get a real boost in pride when we get a donation such as this. It means a lot to them that there are people and businesses out there who recognise the work St Paul's does – it shows members that people believe in them and the club."
The sign replaces an old, tatty sign that hung above the entrance to the gym for many years.
The original sign didn't even include the club's logo, but was inscribed with the words 'Home of Champions' in reference to the thousands of title-winning boxers St Paul's has produced since being founded in 1942.
The money to pay for the sign was split evenly between Allenby Commercial and Hideout Hotel, which was developed by Allenby Commercial in 2017, and is managed by Georgia Allenby, daughter of Allenby Commercial Managing Director, Andrew Allenby.
The luxury boutique hotel is made up of 15 apartments and is located just two doors away from St Paul's Boxing Academy in Hull's old town.
Mr Allenby said: "It's a genuine honour for Allenby Commercial and Hideout Hotel to be able to help St Paul's in this way. The club does such a lot of great work in the community and we are really proud to support them."
Dave Garness, Managing Director of property agents Garness Jones, is a trustee St Paul's Boxing Academy, which became a Charitable Incorporated Organisation (CIO) in 2019.
Mr Garness said: "We are really grateful to Allenby Commercial and Hideout Hotel for making our new signage possible.
"At St Paul's, we enjoy the support of a lot of local businesses. That's because the values that St Paul's instils in members – hard work, resilience, achieving their potential – are the same values we find in business so a lot of companies can relate to that."