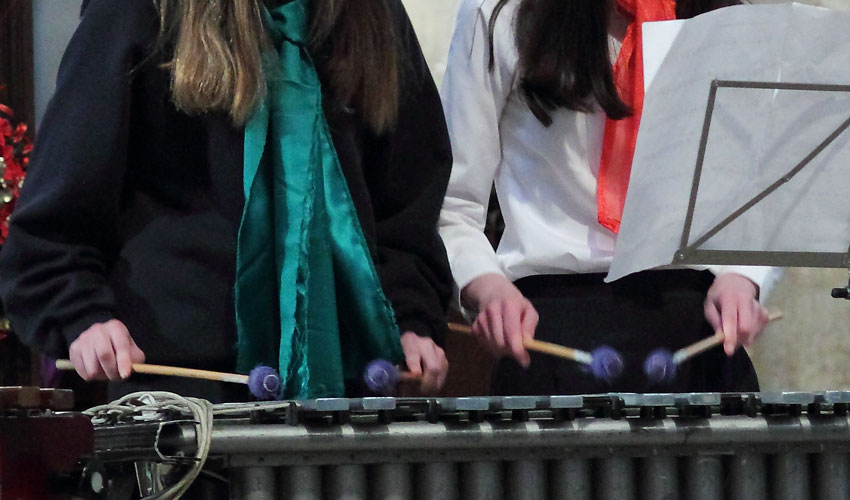 The Hull Music Service has taught almost 5000 school-age children on a weekly basis over the last year.
4807 pupils, 11.7 per cent of Hull's pupils, have taken part in regular group or individual lessons, or have been a part of whole-class ensemble tuition during 2021.
Children from Orchard Park account for the highest number of learners from a single Ward, with 165 pupils learning music. 705, 43 per cent, of those taking up lessons live in the ten per cent most deprived wards nationally.
James Dickinson, Head of the Music Service said:
"The ambition of the service is that every child has the opportunity to learn a musical instrument.
"We work to foster children's artistic talents and create new opportunities for them. It's important that musical opportunities are available to all children, from all backgrounds, as well as those who have special educational needs or disabilities.
"There is compelling research that engaging in music can support a wide range of challenges that our children and young people face. Schools are increasingly looking at music-led interventions to help social and behavioural outcomes. Music also helps develop creativity, resilience, communication skills and leadership, and it helps children broaden their horizons. Attending a weekly ensemble or activity at the Albemarle, for many children and young people, is the first step to looking outside their immediate community and trying new things."
As well as delivering lessons and ensembles at the Albemarle Music Centre, the service also delivers regular face to face weekly provision in 79 of the city's 97 schools.
The service teaches a wide range of musical instruments, and a variety of music genres from Hip-Hop to DJ-ing to Gamelan. Children can also learn music tech and composition, and take part in ensembles ranging from bands and orchestras to jazz groups, chamber groups and singing groups. All ensembles are free to be a part of.
Councillor Shane McMurray, Portfolio Holder for children's services said:
"Through the pandemic, we have invested in technology for both staff and students which has improved our provision to schools, the efficiency within our team and the quality of experience for our learners.
"We have also reshaped and re-structured the Albemarle provision, including our key partners, which has broadened the range of genres we provide, as well as reaching a more diverse range of children and young people."
Children and young people can sign up for free ensembles here. To start learning an instrument, talk to your school or find more information here, follow @hullmusichub on Twitter, or like Hull Music Service on Facebook.