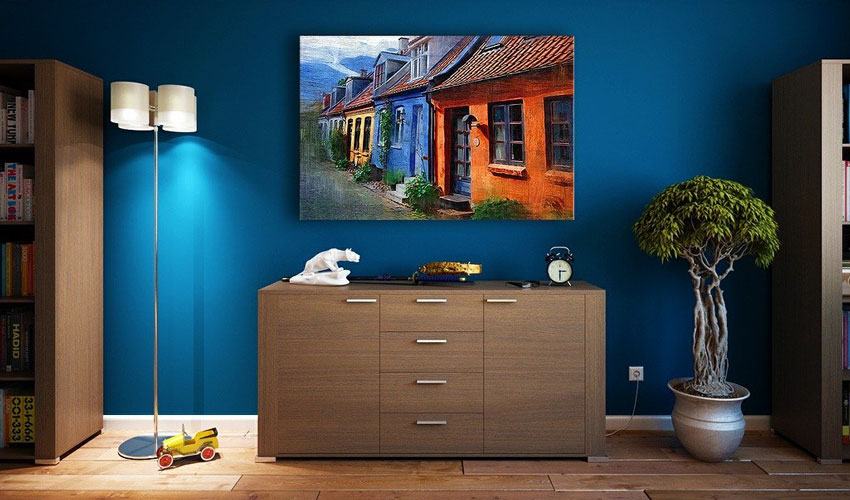 Hanging objects on the wall is a big part of interior decoration, kitchen set-up, and even gardening.
If you are particular about the overall finish of your space, pesky fasteners such as nails and other invasive hangers may not be the most ideal way of displaying memorable moments or souvenirs in your home.
In this article, we discuss the different ways of hanging items on walls.
Here are some ways to affix objects on walls without nails
Use command strips

Try command hooks

Choose Hook-and-Loop tapes

Lean large framed pictures against walls

Try monkey hooks

Use putty
Command Strips
Command strips are probably the most popular, non-invasive way to hang objects on your walls. They are a great option for anyone who is renting their home. You can use them to hang a wide range of objects, from frames, canvases and other light items. These adhesive strips do an excellent job of keeping things on the wall without leaving any trace. They are available in a wide range of sizes and can support a variety of weights.
If you are hanging a heavy item, you can even double or triple the strips for extra support. If you want your décor to be flush with the wall, command strips not only deliver aesthetically pleasing results but also help conceal the hanging mechanism.
Command Hooks
With sizes able to support up to 3.4 kg of weight, command hooks are the go-to hangers for displaying medium weight pieces. When buying command hooks, it's important to choose the right one, depending on the results you want to achieve. Some hooks make your items feel detached from the wall a bit because they protrude a few centimetres outward.
If you want the object to be flush with the wall, consider getting command nails. When using adhesive hangers, it's important to mount items on smooth surfaces and ensure that the tape or strip cures properly before hanging objects on them.
Choose Hook-and-Loop Tapes
Velcro, or hook-and-loop tapes, are excellent solutions for environments where you want to hang items on walls temporarily. Velcro is ideal for affixing fabrics, frames and plaques to walls. You can even use them to mount objects on furniture, especially if they are lightweight.
When using hook-and-loop tape, ensure that you choose products with strong adhesive backings on both sides. Make sure you adhere to the instructions for securing and curing the tape before using them to hang objects so that they last long.
Try Monkey Hooks
If you want to hang heavy items on the wall, something between 10 to 20 kg, monkey hooks and gorilla hooks are the ideal hanger for affixing such objects. These J-shaped hooks not only support hefty items but also leave very tiny holes on your walls.
Since the holes are almost negligible, they are easy to fill in. Use monkey hooks when you need a tool-less, mess-free way to affix large frames, especially those with wires or tabs, to walls.
Pictures Against the Wall
If you live in a rented apartment, using the wall lean is probably your best bet at adding some personality to your space. You can just lean larger pieces on the wall if you have an open space and don't want to drill holes. Check out your surrounding for ways to optimise all the free space. This method is not only effective, but it's also simple and perfect for heavier and larger pieces you might find difficult hanging directly on the wall.
Use Putty
If you wish to stick lightweight, decorative items to a wall or other vertical surface, you can also use putty. Putty is highly versatile for mounting pictures and small frames, and you can even use them to secure the corners of items.
Have you ever tried any of these methods for hanging things on the wall? Let us know other non-destructive hanging methods in the comment.