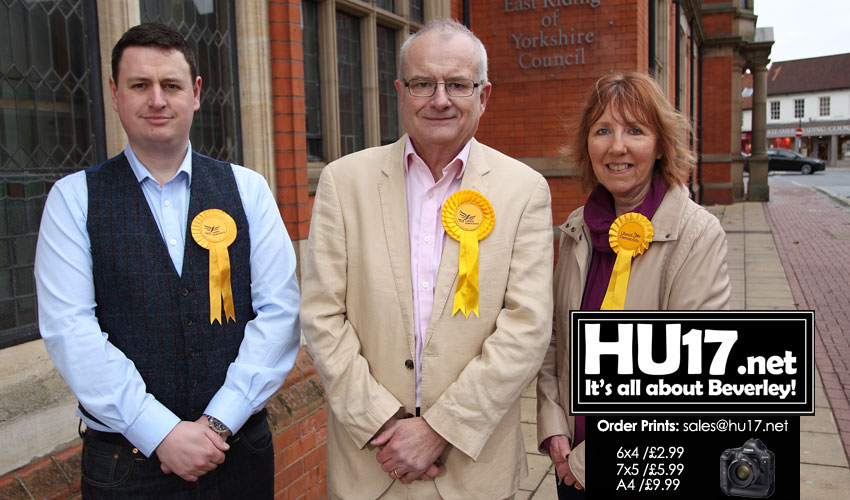 Liberal Democrat councillors in St Mary's ward are celebrating with residents at the news that their campaign to prevent two 24 hour drive-thru's, industrial units and a filling station being built on greenfield land on Swinemoor Lane next to the hospital has been successful.
Hundreds of local residents signed the councillors' petition against the proposal which would have changed the whole character of the area. Planning officers at East Riding Council have refused the planning application, saying that the proposal would generate high volumes of traffic onto an already heavily congested area, and would "have a harmful impact on highway safety."
Cllr Denis Healy said:
"There is little doubt that this is a victory for people power. We wrote to hundreds of residents in the Model Farm and Swinemoor areas nearest to the proposed development and they told us in no uncertain terms that Beverley doesn't need the noise, congestion, and general misery that a development like this would bring. We put all these points to planning officers, who have chosen to listen to the people, and we thank them for that."
Cllr Linda Johnson, Mayor of Beverley, said:
"This development would have had a devastating impact on the local wildlife and on the green and pleasant Swinemmoor pasture. People are absolutely fed up with the countryside being carved up to accommodate fast food joints and all-night drive thru's such as this. Beverley can do without his sort of thing. And having something like this next to the hospital would have added insult to injury.
Cllr Dave Boynton said:
"I know that residents will be delighted by the decision not to add to the congestion of Swinemoor Lane which is often gridlocked, especially at peak times. It would have been ridiculous to add to that by building something of this scale on that site. As well as the all-night burger bars and filling station, they wanted industrial units and a 171 space car park to accommodate them all.
Cllr Healy did throw in a note of caution when he said.;
"Although we are celebrating, we need to be mindful that the applicants do have the right of appeal to Government planning inspectors, but our message to the Government is that local people have made their feelings clear, and Tory Government planning inspectors would do well not to meddle with that view."