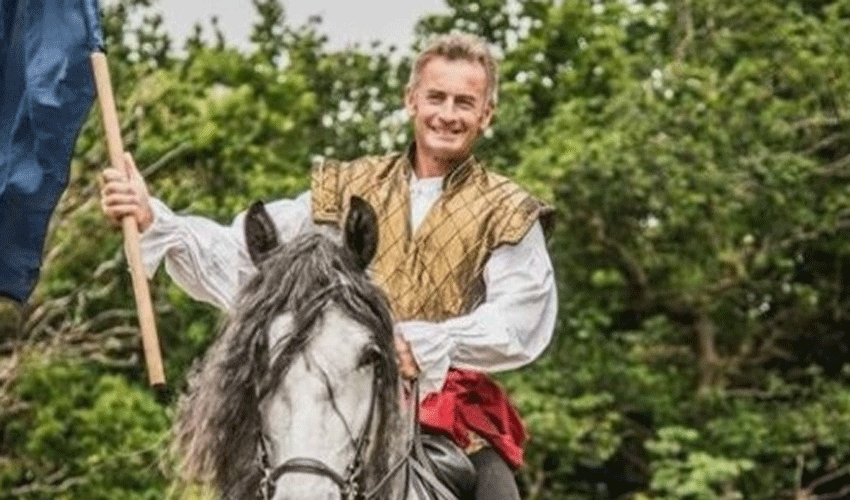 Organisers of The Business Day have announced that internationally renowned Horsemaster, Mark Atkinson will be the keynote speaker for the event at Bridlington Spa on Friday 11 June.
Mark will join host Gyles Brandreth in person at the venue, which will be a free-to-watch, live-streamed show.
The Atkinson family has been providing horses and riders for TV & Film, photoshoots, and live events for over 25 years. Based in the heart of Yorkshire, Mark was a dairy farmer who diversified from agriculture into equestrian and has never looked back.
Having ridden all his life and spending many years show jumping Mark opened Asselby Grange Livery Yard & Riding School in 1996.
He started providing horses for re-enactment and jousting, his work expanded into the field of TV and film and has since provided horses, carriages, and riders taking on the role of Horsemaster on many productions across the UK and internationally including Peaky Blinders, Victoria, The Witcher, The Larkins (due for release later this year) plus many more.
The Business Day is an annual networking event tailored to a day of discovery insight, with nearly 700 business leaders coming together; however, due to the current global pandemic, this year's will be a three-hour live-streamed show.
The Business Day is organised by Stephen Parnaby OBE, Event Director on behalf of For Entrepreneurs Only and in conjunction with Bridlington Spa.
Stephen Parnaby said;
"Mark's story demonstrates the huge variety of successful businesses in the area. Based in the heart of Yorkshire, this family-run business provides an outstanding professional service for any production team or event. It will be fascinating to find out more about the history behind Atkinson Action Horses and just what is involved before we see these amazing animals on the big screen."
Mark Lonsdale, General Manager, Bridlington Spa said, "As a big fan of Peaky Blinder's I'm excited to find out how Mark trains the horses for such an iconic TV show, bringing the world of television and film back to the stage at Bridlington Spa!"