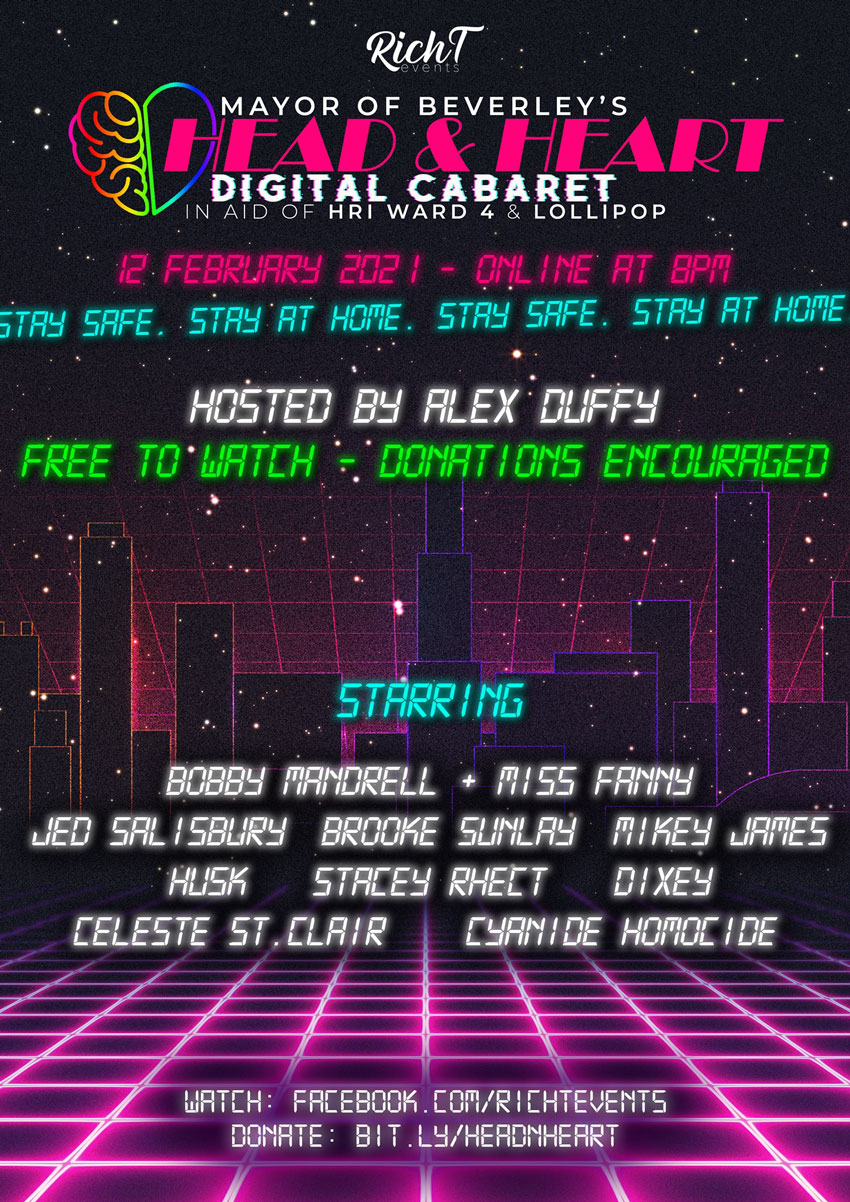 Lockdown and winter have seen some grey days, so why not add a splash of colour and sparkle to your living room, by joining the Mayor of Beverley's virtual cabaret evening on Friday 12th February.
The Head and Heart Digital Cabaret will bring a showcase of fabulous artists into your home via the magic of technology.
Hosted by Viking FM's Alex Duffy, artists include Hull legend Bobby Mandrell, along with Jed Salisbury, Husk, Mikey James, Brooke Sunlay, Miss Fanny, Stacey Rhect, Dixey, Celeste St.Clair and Cyanide Homocide.
The Mayor of Beverley, Councillor Tom Astell, explained:
"The idea of the Head and Heart Digital Cabaret is to bring a bit of outrageous glamour into our homes on a dark, dull lockdown evening. Pour a glass of something cheerful, log on to the cabaret and expect a night of music and laughter, glamour and glitz. The final hour, in particular, will be aimed at a more adult audience, but everything will be done in the best possible taste."
Although the cabaret is free to attend and open to all, there is an option to make a donation to the Mayor of Beverley's Charities. Councillor Astell said:
"It's been a tough year to raise funds for my chosen charities, but as they are both close to my heart, I hope people who watch the event will be generous enough to give a donation. All monies raised will be split between Hull Royal Infirmary's Ward 4 and the Lollipop group, which supports young LGBT+ people. In fact, even if you cannot come to the cabaret, you are still welcome to donate to these two brilliant causes."
Donations can be made electronically via: http://bit.ly/HeadNHeart
The Mayor concluded with;
"The past year has been difficult for us all, but the rollout of the vaccine shows there is light on the horizon. The Head and Heart Digital Cabaret is the perfect way to cheer ourselves up in the safety of our own homes, have a digitally remote laugh with friends and raise a toast to a brighter future."
Managed by Rich T Events, the evening starts on Friday 12th February at 8pm and will run late into the evening. The event will be broadcast via Twitch (https://twitch.tv/richtevents) and Facebook (https://www.facebook.com/richtevents).