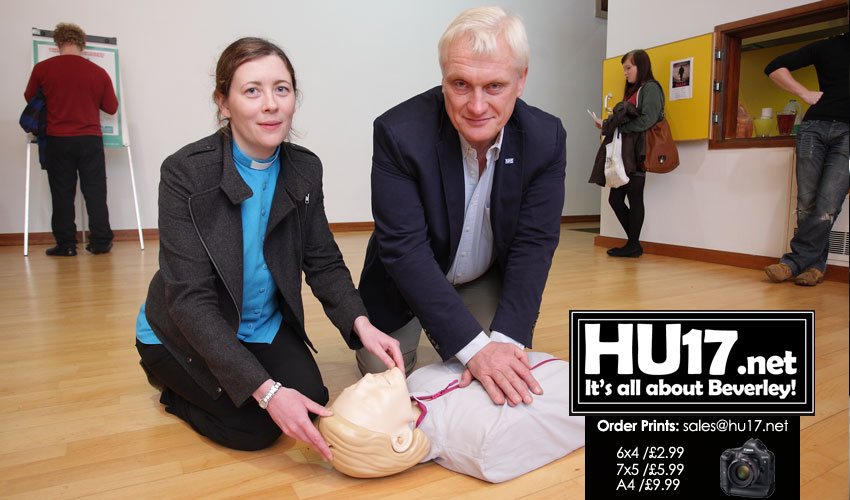 Graham Stuart, MP for Beverley and Holderness, has written to secondary schools in his constituency for Restart a Heart Day.
The local MP, who is the founder of the CADEY campaign to ensure full coverage of publicly accessible defibrillators across Beverley and Holderness, is encouraging schools to apply for a free CPR kit from the British Heart Foundation (BHF) to improve awareness of the importance of knowing CPR in the event of a sudden cardiac arrest.
Currently, fewer than one in ten people who suffer an out-of-hospital cardiac arrest survive, with chances of survival falling by a further 10% for every minute someone goes without treatment – either CPR or a defibrillator.
Leading charities such as the Resuscitation Council and St John's Ambulance, as well as BHF, are concerned that rates might be falling even further after a third of adults responded that they didn't know whether CPR should only be carried out by professionals in PPE.
The Resuscitation Council has updated its guidelines for CPR during the Covid-19 pandemic, with key changes including loosely laying a face covering, such as a towel or piece of clothing over the mouth and nose of the person who has collapsed and to do hands-only CPR, with no mouth-to-mouth rescue breaths. In all instances, the first port of call is to ring 999.
Graham said;
"Over 30,000 out-of-hospital cardiac arrests happen every year, and this doesn't slow down because of the pandemic. With people understandably nervous at the moment, it's more important than ever that people know how to perform CPR and are confident in using a defibrillator.
"Every second counts when someone has a cardiac arrest and doing something is always better than doing nothing. In Norway, where CPR is taught regularly in schools, the survival rate is considerably higher, with one in every four people surviving.
"That's why I'm encouraging secondary schools to take up the British Heart Foundation's offer of a free training kit – it's never been more important to build a nation of lifesavers."
In normal circumstances, Yorkshire Ambulance Service teaches CPR at secondary schools every Restart a Heart Day – reaching 150,000 students since 2014. They also offer free first aid courses to community groups across the county, with those interested invited to contact ali.richardson@nhs.net.