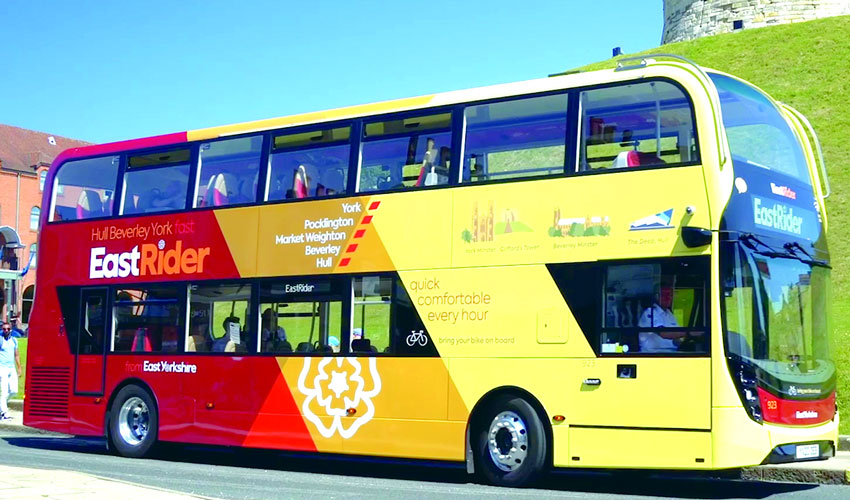 To celebrate Clean Air Day, bus company East Yorkshire is highlighting its commitment to creating a cleaner, more environmentally fleet.
Over the past two years, East Yorkshire has invested in 27 brand new ultra-low emission buses, each meeting the highest Euro 6 environmental standards, helping to keep our air clean and free from pollution.
In total, East Yorkshire now has 80 buses meeting Euro 6 standards, including seven new National Express coaches.
The eight newest buses are also bike-friendly, with each being able to carry bikes safely on board to allow commuters to extend their journeys sustainably.
Area Director Ben Gilligan commented: "While using public transport is already better for the environment than using a car, we have a role to play in making our buses as clean as possible.
"Each new bus replaces an older, less efficient bus, giving long-term benefits for passengers and wider communities."
Clean Air Day, this year held on Thursday 8 October, highlights the impact air pollution has on our lives. Pollution causes up to 36,000 deaths each year in the UK and poor air quality causes heart and lung diseases.
Ben Gilligan continued: "In the early months of lockdown, traffic levels dropped significantly, creating cleaner air and fewer emissions. However, with more people back at work, colleges and schools, traffic has now increased to near pre-COVID levels.
"By swapping to the bus, passengers reduce their carbon footprint while reducing congestion and creating a quicker journey for everyone. By working together we can keep emissions low and all feel the benefits."
Measures are in place on all buses to keep travelling on the bus safe, including enhanced cleaning, driver protection screens and the requirement to wear a face-covering on board. Extra buses are being used on busy routes and capacity limits ensure social distancing is possible in on board.
The new buses are on the Hull to Cottingham Services 104/154, East Rider X46/X47 buses between Hull and York, and on local services in Scarborough.
Find out more and plan journeys at eastyorkshirebuses.co.uk or on the East Yorkshire Buses app which can be downloaded from Google Play or the Apple App Store.