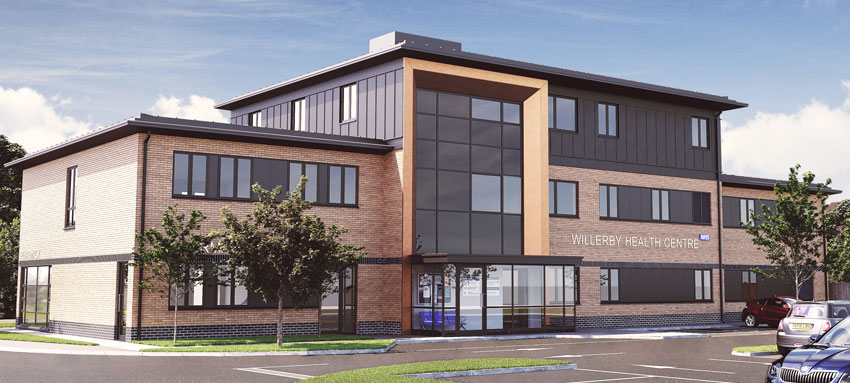 A new medical centre which was first proposed nearly 15 years ago has cleared its final hurdle after funding was approved by the East Riding of Yorkshire NHS Clinical Commissioning Group (CCG).
Work could start by the end of this year on the site in Lowfield Road, Anlaby, with construction expected to take 12 months, and the new centre will reflect the advances in facilities and the increase in demand over recent years.
Lovel Developments, which held its first consultation on the proposals in 2014, welcomed the centre as the last piece of a jigsaw which has already brought the opening of a building for the Spire Hull and East Riding Hospital in 2016 and the more recent completion of more than 200 houses.
Health professionals said the stage is now set for improvement across the board in services for patients in the Harthill Primary Care Network (PCN), which was only established in 2019 to cover an area which includes Anlaby, Cottingham, Hessle, North Ferriby, Swanland and Willerby.
Jim Hickey, Practice Manager at Willerby and Swanland Surgery since 2005 and now Support Manager for Harthill PCN, said: "As a PCN we have struggled for space because we don't have a hub. This will provide that hub and enable us to bring in specialist services.
"It doesn't take anything away from the services we can provide to patients in Willerby and Swanland but as a specialist building, it can provide something that isn't available elsewhere, new services and better access. None of the current surgeries has the ability to host those services and the community has been under-served as a result.
"It will have a much bigger impact on the local health economy. We will take our existing team of around 33 people and although it won't change immediately we will bring in those new roles and specialists and the team will increase over the next five years."
Lovel Developments acquired the 25-acre site in April 2015 and proceeded with the housing development and the Spire facility but submitted an updated planning application for the medical centre last year to reflect the changing needs from a growing population and increasing demand for services.
Philip Lovel, Managing Director of Lovel Developments, said: "The idea first gained approval from the Primary Care Trust in 2008 for a new facility but it never happened because they couldn't find a suitable site.
"As the search for a site continued and healthcare needs of the area changed, the PCN was created and the business case had to be updated. Now it has finally been approved and I am delighted for the team at the PCN, and grateful to them for putting together such a compelling case.
"The next step for us is to appoint the contractors for the project and we will aim to do that quickly. We would like to start work at the site this year and we would expect construction to take about 12 months to complete."
The new centre will be accessible by walking, cycling, public transport and car, with the main entrance at the rear, next to parking spaces for more than 30 vehicles. The ground floor will house six treatment or consulting rooms and a health education area. The first floor has nine consulting rooms for GPs and other health professionals as well as meeting rooms and space for support staff. Admin staff and the practice manager will occupy the smaller, second floor.
Willerby and Swanland Surgery originally put together a strategic case which was approved by the CCG in December 2018 because of the identified lack of capacity in the existing surgeries to expand and look after the growing population.
Mr Hickey said: "We are an expanding practice with about 1,500 houses being built in the Haltemprice area alone and we need nurses, mental health workers, healthcare practitioners and pharmacists. We have also been challenged to improve our service to care homes.
"The community deserves up-to-date primary care facilities now which are fit for purpose as well as being acceptable to meet future healthcare requirements.
"We have worked with Lovel Developments and their support and patience have been admirable, guiding us and helping us and sticking with it.
"It has been a lot of effort and it shows how much we believe in what we are doing."