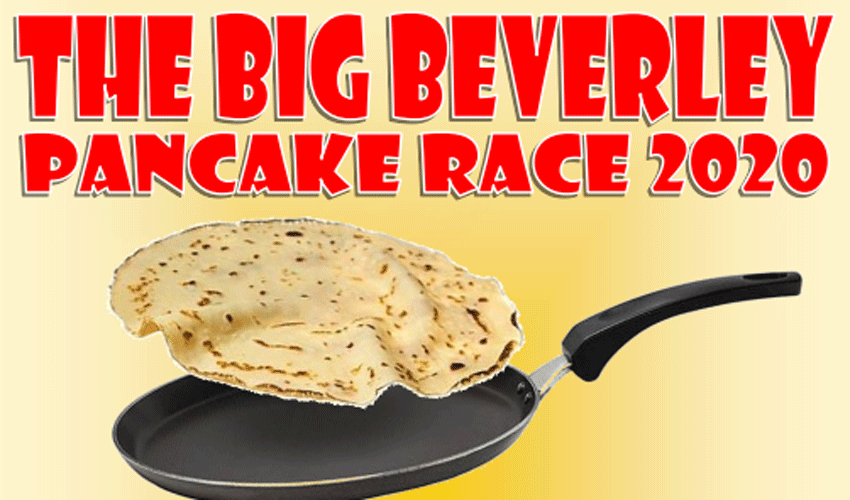 Big Beverley Pancake Race is on the lookout for businesses and local groups to put forward a team of tossers.
For the third consecutive, Beverley Town Council will be hosting the Big Beverley Pancake Race. As a result, they are urging businesses to support the event.
The Town Council is looking for even more local businesses to put a team into the race and take part in the fun event. Most noteworthy is that funds generated from the event will go towards support local good causes.
Pancake Umpires for this special day, Mayor of Beverley, Councillor Duncan Jack. He will also be joined by President of the Rotary Club of Beverley, John Greenwood.
Mayor of Beverley Councillor Duncan Jack said;
"It is good to be working in partnership and bringing the race back to the town again for the third year. We are looking forward to receiving entry forms from local businesses and organisations."
"This is a real community event for Beverley. Bring a team from your business, shop, pub, cafe or organisation, and come along and support your town at this enjoyable pancake race."
"We give our thanks to Lakeland. We hope more people and businesses will want to get involved, by joining in the fun to brighten up February."
"It's an old tradition which is very interesting."
Big Beverley Pancake Race Is Certainly Great Fun
John Greenwood, current President of the Rotary Club of Beverley is also looking forward to the race, he said;
"I am delighted that we are running this event for the third year in partnership with the Town Council."
"It is great fun to be involved and I hope that it will remain as a Beverley tradition for many years to come. Once again teams will be competing for the Rosanne Randle Trophy, named after a Rotarian who is sadly no longer with us."
"Although new to the area, she took Beverley to heart and it was her idea to reintroduce this event. A prize will also be awarded for the Best Dressed Team. "
"The event will be held on Sunday 23 February at Wednesday Market. We are encouraging local businesses to enter teams while we also want residents to come out to share in the fun and support them."
Further information and to also get an Entry Form for the Team event can be obtained by emailing clerk@beverley.gov.uk. The Final date for Entries is Tuesday 14 February.