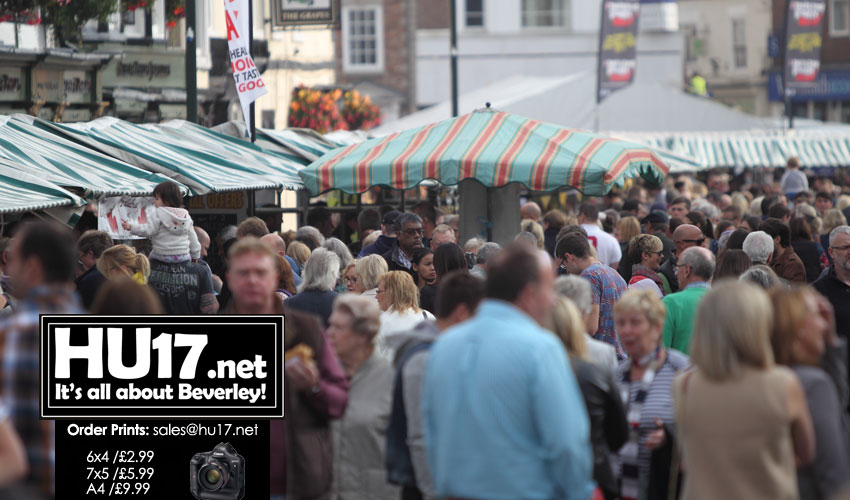 Food will be at the forefront of peoples mind this Sunday when the hugely popular Beverley Food Festival takes place.
Thousands of people will head to the town for the signature event that celebrates the very best of local produce.
Beverley Town Council who run the event says they are looking forward to this year's festival. There will certainly be plenty to see too.
In all, there are 120 stalls while there will be culinary demonstrations in the 'food theatre.' Proceedings on the day will get underway from 9.30AM with the event coming to an end at 4.30PM.
This event has proved so popular that the Beverley Food Festival has picked up a number of awards since it first started some 14 years ago.
Over that time it has also provided a platform for some of the town best-known faces when it comes to grub. These people work their magic lifting a lid on skills that are normally tucked away in the kitchen.
Food Festival Provides Platform For Local Food Professionals
This year is no different with Thierry Condette, Tina Cerutti and James Mackenzie all making appearances.
For others within the industry, the event provides the perfect opportunity for them to network with others in the business.
Pig and Whistle owner, James Allcock has always been a big supporter of the event. He feels that the event is the perfect way to showcase the town's eateries.
Pulling in huge crowds this Festival also gives local businesses a boost to their sales in the run-up to Christmas. Retailers and cafes can expect bumper days as visitors from far and wide flood into Beverley.
There are some things which are new to the Festival which demonstrate and reflect current life.
East Yorkshire Food Bank who tackle food poverty in the area will benefit. The Mayor of Beverley Duncan Jack will be raising money for them. This is something that should be welcomed on what will be the first time this charity has been linked with the event.
While there will also be talks on how people can deal with waste produce and make compost.