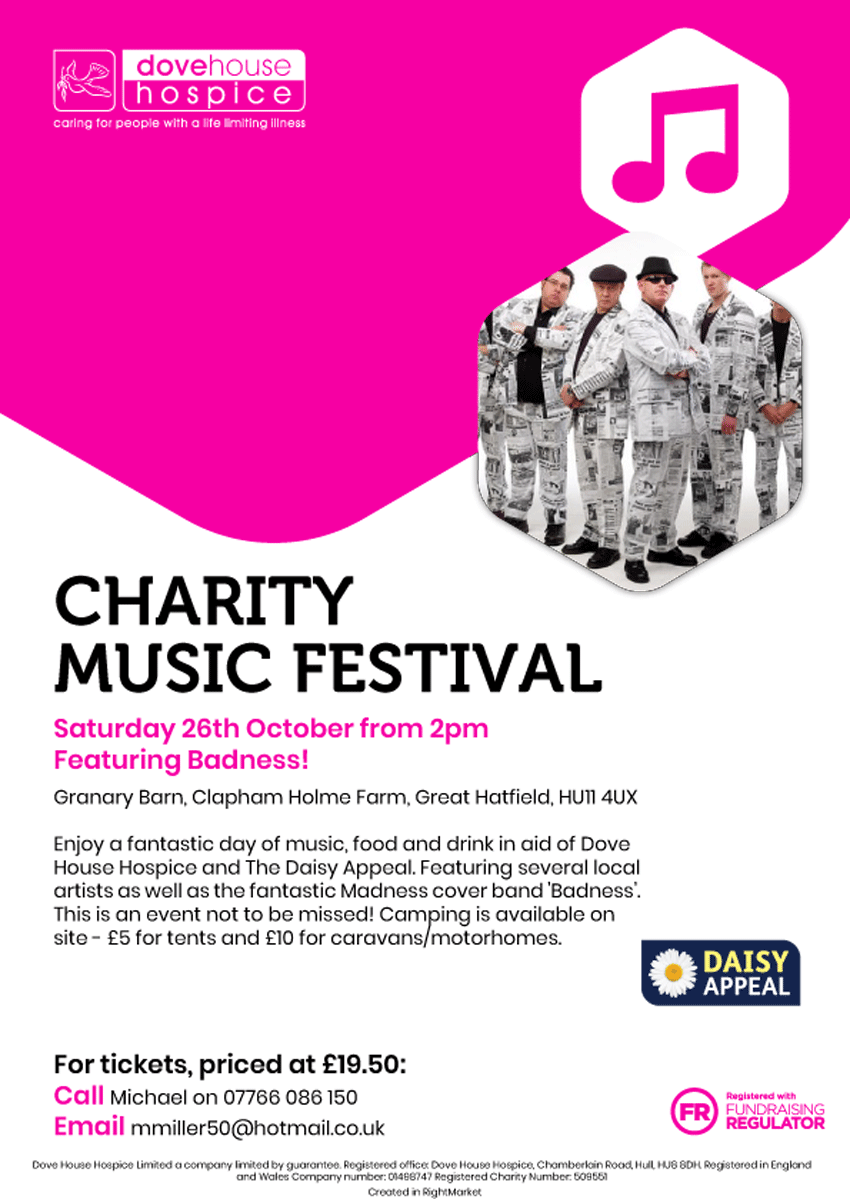 Long term Dove House Hospice supporter Michael Miller, has been fundraising throughout 2019 in aid of the hospice and The Daisy Appeal.
Mr Miller has already raised over £2000 for the patients at Dove House through a sponsored cycle ride in the past and is hoping to significantly add to his tally over the next few months.
At the centre of his fundraising plans, Mr Miller has organised his very own music festival on Saturday 26th October at Clapham Holme Farm, Great Hatfield. Tickets are now on sale for a special day of quality music and entertainment. There will be a number of local acts on show from 2pm, with premier Madness tribute band 'Badness' bringing the event to a close in the evening.
There will also be plenty of entertainment, food and drink available throughout the day, making it the perfect event for the whole family. For those who want to make the occasion even more special, camping is also available on-site, priced at only £5 for tents and £10 for caravans or motorhomes.
Speaking in the build-up to the charity festival, Dove House Hospice Regional Fundraiser Jethro Shearring said:
"We are incredibly grateful to Mr Miller for his ongoing fundraising efforts in support of our patients and their families. At Dove House, we are entirely reliant on the generosity of the local community in enabling us to provide our specialist care to those who need it most. We are honoured to be a part of what will be a fantastic fundraising event."
Tickets for the charity music festival are priced at £19.50. To purchase your ticket or for more enquiries, call Mr Miller on 07766 086150 or email mmiller50@hotmail.co.uk