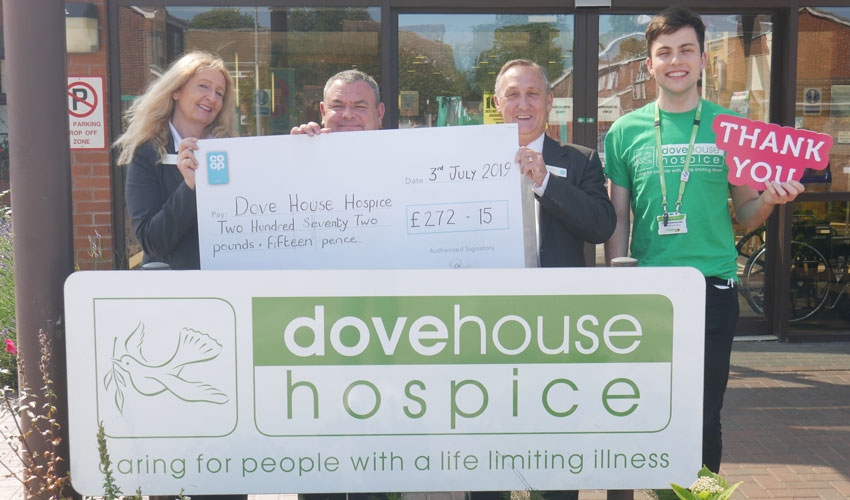 Dove House Hospice in Hull has secured a donation of over £2,000 thanks to money generated by Co-op's members in the local area.
The money has been raised as part of Co-op's membership scheme, whereby Co-op members receive a five per cent reward for themselves with a further one per cent going to local causes when they buy selected own-brand products or Co-op services.
Members can decide how the money is allocated, and are encouraged to select the cause they wish to support online.
Dove House Hospice provides care for adults across the city and the East Riding of Yorkshire that have illnesses which are no longer curable. The teamwork to improve the quality of life of their patients by offering specialist care which is holistic and individually tailored to their needs.
From specialist medical care to complementary therapy, rehabilitation to social care, the hospice's team works together to give patients everything they need to live well for as long as possible.
Last year, the Co-op invested £19 million in over 4,000 causes UK-wide, supporting a wide range of initiatives, all of which are helping to make communities across the UK safer, happier, and healthier places to live.
Roger Mathers, Funeral Director at Co-op's Hull Funeralcare comments: "Dove House Hospice plays such a vital role in the local community, as such we were delighted to be able to help the cause and assist with supporting their patients in their time of need.
"We're really passionate about aiding local organisations and will continue to help other local causes in the area throughout the year. Every time you use your Co-op membership card you can help to fund community projects like Dove House Hospice."  
Jethro Shearring, Fundraising Coordinator at Dove House Hospice comments: "We are incredibly grateful for the continued loyalty of the staff at Co-op Funeralcare, who has championed the hospice for a number of years. We were delighted to attend their open day earlier this year, where £272.15 was raised for Dove House Hospice.
"Although we offer all our services free of charge, they are not free to give. We can only make a positive difference to the lives of our patients and their families due to the generosity of individuals, community groups and businesses such as the Co-op."
For more information on local causes please visit https://www.coop.co.uk/local-causes