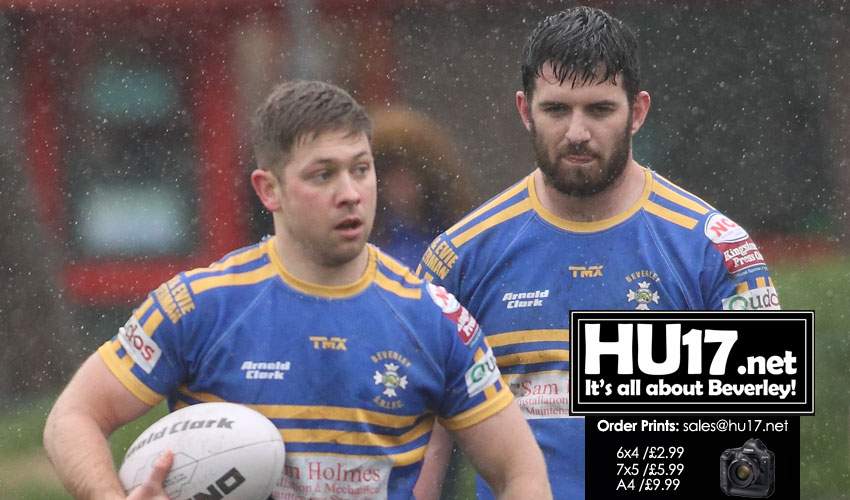 Beverley ARLFC were beaten by relegated Shaw Cross Sharks despite taking a late lead in their game of the season.
Jordan Precious dropped a goal in the 78th minute, which just struggled over the cross-bar to snatch what looked likely to be a narrow victory in a somewhat stuttering end of season performance.
Beverley failed to close the game down in the dying minutes and Callum Barker crossed for an injury-time winner for the Shaw Cross Sharks.
Billy Riby, Ryan Watkin, Joe Morley and Tom Moor all made welcome returns for Beverley. Lewis Poskitt began a 5 game ban so Tom Moor was switched to scrum-half and Francis Coggle started at hooker.
Early raids by the visitors saw an Alex Starling break with Riby in support but the pass to his support was knocked down by the opposition. Moments later, a Bobby Howdle ball steal set up a dangerous set which Alex Calvert was unlucky to lose the ball over the line.
Finally, Billy Riby crossed for Beverley doing well despite the best efforts of a number of Shaw Cross defenders. Josh Poskitt converted.
In the 28th minute, the hosts replied with a Wesley Bruines try converted by Callum Barker. Towards the end of the half, Beverley were guilty of indiscipline conceding a number of penalties and were placed on a team warning.
This resulted in the 32nd minute sin-binning of Bobby Howdle. The home side exploited the numerical advantage for Owen Lumb to cross and Barker to convert and give the home side a 12-6 lead.
Shortly after the break, Kane Epati crossed to increase the lead improve by Barker to 18-6. This stirred the visitors and after some promising breaks by Kingsley Okra-Overton and Bobby Howdle, they hit back.
One of the frequent penalties awarded to Shaw Cross failed to find touch. It was fielded by Lewis Miller who went on a run. Soon after Bobby Howdle went on a jinking run to send Riby over for his second improved by Poskitt. The visitors still failed to get a grip and Tyler Butterfield restored the home side's 12 point advantage with a converted effort.
The fightback was then led by the man of the match Ryan Watkin who helped himself to a try and sent Bobby Howdle over for one. Tom Moor converted both of them to level things up at 24-24 with 10 minutes remaining.
Unfortunately, Beverley could not maintain the concentration needed following the Precious drop-goal and were therefore unable to sign off the season on a high note. There is one game remaining in Division 2 between Clock Face and Shaw Cross and victory by Clock Face would see Beverley finish the season in ninth place.