News that additional charging points for electric cars in the East Riding have been installed has been welcomed by Beverley Motor Works.
East Riding of Yorkshire Council has announced that points have been installed in Withernsea and also Pocklington.
This now means motorists in Beverley, Hessle, Bridlington and also Driffield can now charge their electric vehicles.
Speaking to HU17.net Richard Hayes of Beverley Motor Works said;
"We welcome news that the local authority has installed these additional points in our region. Over recent years we have seen the number of electric cars on our roads increase."
"This just helps reinforce the message that the motoring industry is taking climate change seriously. While for drivers of electric cars it means they can now fill up in more locations in our region."
Beverley Motorworks is one of just a few garages in the region who are fully certified to work on Hybrid and Electric vehicles.
Richard says that more of their customers are seeking advice when it comes to making the switch to traditional cars.
People Are Seeking Advice When It Comes To Electric Cars and Hybrid Cars
He said;
"Many of our customers are unsure of what the future holds. While visiting us they will ask for advice on the types of electric or hybrid cars we would recommend."
Motorists in Beverley or visitors to the town can charge their cars for free at the Flemingate Shopping Centre. Centre Manager Graham Tait says that chargers on the site are popular with motorists. He also adds that drivers are more environmentally conscious.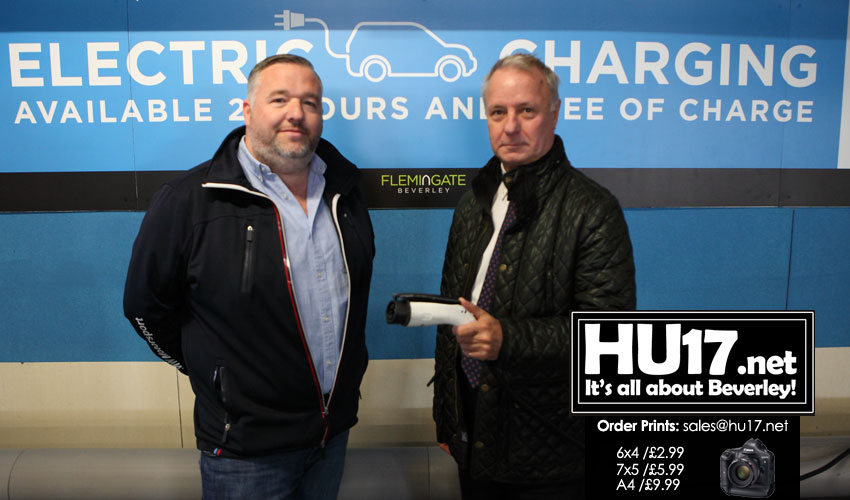 The charging points installed by the council are managed by Pod Point. Currently, they allow drivers to charge their car for free.
Owners of electric vehicles need to register for a free account via the website or app before charging their vehicle for the first time.
The council also say that the ongoing scheme to install chargers will aid them in promoting the use of electric vehicles.
In a statement released they said;
"Investing in a network of charging points across the East Riding will emphasise the benefits of such vehicles to our residents. It will also encourage more drivers to consider the environment when purchasing a new vehicle."