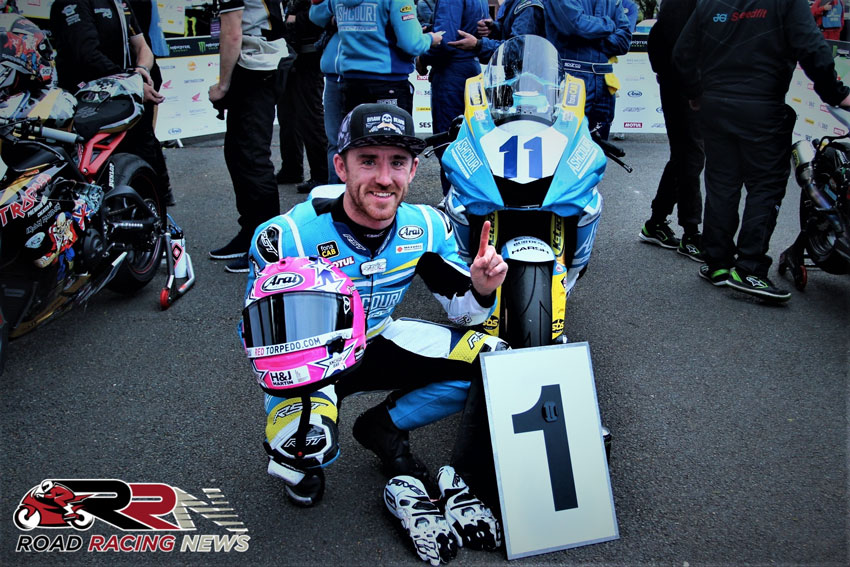 The East Yorkshire based Ashcourt Racing squad enjoyed a quite momentous, tumultuous first TT campaign. It saw Lee Johnston finally join the TT winners circle.
Consistently near the sharp end of the Supersport timesheets during practice week, Johnston following a solid top 15 placing in the RST Superbike race, produced a quite brilliant display aboard the Ashcourt Yamaha to take the spoils in the opening Monster Energy Supersport encounter.
You could sense the relief, the delight, the fulfilment of a life long ambition when he celebrated his victory within the winner's enclosure.
For the newly formed Ashcourt squad, success was a testament to the faith they had put in now eight times International Road Race winner Johnston.
Providing reaction from the team's point of view, on Johnston joining the TT winners circle, long term sponsor, a good friend of 'General Lee', Phil Reed candidly stated:
"I think it's big for him because when he finished the race he said he didn't really do anything any different to when he raced around here over the last six years.
He didn't have any moments, felt like he was going fairly slow, apart from seeing his pit board saying P1, it came to him. I think that's going to be good for him, going forward."
Ashcourt Racing Invest Lots Of Money And Many Hours
Providing additional comment on the work, the efforts to put the Ashcourt Racing team together, Reed added:
"Quite a lot of money, quite a lot of hours by everybody back at the workshop. We didn't realise quite when we stopped racing last time, how much it takes to get all that infrastructure back together.
The bikes were one of the easiest things to organise because we bought bikes that were already built, especially the 600, so that wasn't too much of a task really."
Reed went onto add, that the Ashcourt crew's roads ventures for 2019, haven't concluded:
"We'll definitely be doing the Ulster GP. We'd like to get a run out at Scarborough, depending on how it goes with the first meeting. That's something we'd like to be involved with for sure."
Reported by Stevie Rail – Road Racing News Beverley